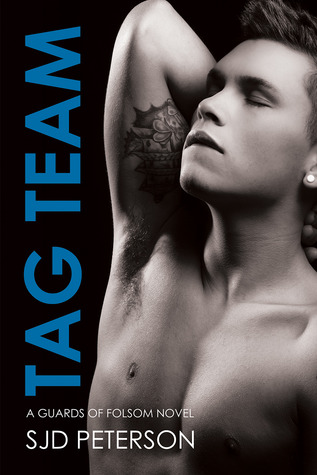 ---
4.5 STARS!!!
Synopsis
Following the death of their sub, the former owners of the Guards of Folsom, Robert "Bobby" Alcott and Rig Beckworth, were left to pick up the pieces as best they could. After seven years, these two Doms are ready to move on and find the boy who will complete them. Their painful past comes crashing back when they meet Mason Howard, a submissive who just weeks ago lost his Doms in a car accident.
Reeling from overwhelming grief that's complicated by a severe social anxiety disorder, Mason can barely leave his home. When Rig and Bobby find him, he's hit rock bottom, believing life is no longer worth living. Bobby and Rig set out to prove the younger man wrong. Fate has brought the three men together, but they'll have to face fear and loss head on before they can all truly live again.
Denise's Review
If you have read my prior reviews you know I read and thoroughly ménage stories… well this was my first M/M/M read and interestingly the story was so not about three men.  I never questioned whether three men really worked as Ms. Peterson did an amazing job showing the reader the bonds developed and what each gained from the relationship.
Tag Team tells the story of the former owners of the Guards of Folsom, Robert "Bobby" Alcott and Rig Beckworth and Mason Howard.  Bobby and Rigs are two Doms who love each other and have lived together for years; Mason is a broken man suffering from severe social anxiety disorder after having lost his Dom in a car accident.
Maybe it is because Bobby and Rig were a couple in book 1 or maybe its because the story was so well done but as odd as this sounds this relationship transcended the fact that it was between three men and became more about how love provided what was needed to feel whole.
When Bobby and Rig stumble on Mason during a vacation, it is clear to the reader very quickly that these men are drawn to Mason.  The author's amazing dedication in the front of the book should have been a hint that this book would address mental illness with the respect it deserves but I was still blown away by how wonderfully the subject was addressed and how events in the book where handled.. yes, yes, I am trying to not give away plot points while also letting you know I was so impressed with this storyline.
I adored the use of Max, a secondary character, in this book; Bobby and Rig reach out to their friend for help and the support the four of them provide Mason really pulls at the reader's heart as it becomes clear that helping Mason is the goal.
Mason, this poor man, who has faced so much. I not only found myself rooting for him but in the end truly understanding how this very unconventional relationship was exactly what he needed for his life circumstances.
Ms. Peterson proved to me yet again that love is about finding what works for you; finding a happy that makes your life stronger and more complete! She masterfully crafted that for Bobby, Rig and Mason
You do not need to read Pup book 1 to enjoy this story.. though you do see Tacket and Micah from book 1 toward the end reading this as stand alone will not affect your understanding or enjoyment of this story.
I am very much looking forward to book 3 "Pony" Max's story coming in 2014.
You can find more information about the author at:
Book 1 – Pup