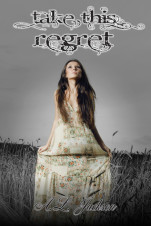 5 STARS!!!
Summary
There are some mistakes we make that we will regret for the rest of our lives. For Christian Davison, it was the day he betrayed Elizabeth Ayers. For five years, Christian has regretted the day he walked away from his family and will do anything to win them back. Can Elizabeth forgive someone who has committed the unforgiveable? Or are there some wounds that go so deep they can never heal?
Christine's Review
I read the prequel first and loved not knowing what to expect in this book and decided to experience everything firsthand from the start.  I went into this book with a lot of emotion and love in my heart for Christian and Elizabeth and I felt myself smiling as I opened my kindle to begin reading this book.
Its 4 years later from Lost To You and Christian and Elizabeth seem to be even stronger and more solid than before.  They have grown and matured together never faltering in their commitment to earn their degrees and for the love that they have for each other.
Everything begins to go downhill as Elizabeth reveals that she is pregnant with their child.  And Christian instantly resorts to his old selfish ways where this is now something that is ruining HIS life, altering HIS plan, and standing in HIS way to success!  Immediately he gives her an ultimatum and she is to choose him or the baby….and she chooses their baby and my heart is heavy and aches for what they once had 🙁
Eight months later, Christian is graduating college and is a guilty rather than proud man.  He convinces himself he still doesn't need Elizabeth and that he will be fine without her and that she has probably moved on by now and has found happiness.  And in my mind I scream at him – WHY ASSUME?  YOU COULD BE WRONG!! 
Five more long years have passed and Christian finds himself in San Diego in a constant state of regret for the choices he has made in his life.  He is alone and miserable.  Similarly, Elizabeth is living with her beautiful daughter and is in a different place than she originally imagined for herself struggling to provide a good life for herself and for her daughter.   And as fate would have it one day, Christian sees a beautiful dark haired blue eye child so similar in features to his own and he is instantly drawn to her.  He is instantly connected and devoted to her.  And what follows is Christian's fight and determination to win his one true love back and to regain all that he missed in the years that he was not with his daughter.
"What do you want, Christian?"

What did I want?

To make her smile, to wipe away her tears, to hold her.

To be a father, a real father, not one in title, but one who'd earned that right.

I wanted to stay.

"I want my family," I forced through the lump in my throat.
 
Will Elizabeth be able to accept Christian's love?  Can she move beyond the pain and hurt and rejection that Christian has put her through?  Can she let her guard down and give him a second chance?
Similar to Lost To You, I enjoyed how the author wrote in alternating points of view so that I had a better understanding of Christian as I was so disappointed with his choices in the beginning of the book.  Reading from his perspective helped me to better appreciate the difficulties he went through and allowed me into his heart and seeing how much he loved Elizabeth and his daughter.  I adored his interactions with his daughter and how he was committed to her, loved her and was completely in awe with her from the moment he saw her.  I felt sad with him as he went through 5 years' worth of pictures – it forced him to see what he missed, what he abandoned and it was devastating for me to read because of all of the loss and sorrow and regret he felt.  Those years lost, you can't get back but I appreciated how hard Christian worked to make things right.  I LOVED that he loves Elizabeth so much that he never rushed her, he waited for her and he fought for her.
Never would I take what I'd been given for granted.  I'd never look at her through indifferent eyes, listen to her fears and worries with distant ears, or touch her with impassive hands.  Elizabeth was a gift, and Lizzie was my treasure.  I would adore my family until the day I died.

No longer would I live in regret, striving to make up for what I'd done.  I'd live for the day, each one set out and purposed to be the best father and husband I could be.  And no matter what life brought our way, I would never walk away.
This is a beautiful, heartwarming book, all-consuming story of second chances, forgiveness and love.  Amy has a way with words that uplift your heart, torture your soul during times of sadness and fill with you with such elation and joy when we find and experience love with these characters.  This is a love so real that you wish for it for yourself because it is so heartfelt.  Amy Jackson is an AMAZING author.  Everything is so beautifully and eloquently written that you find yourself instantly connected to the characters and the story.  She has become one of my all-time favorite authors – she is not only sweet and responsive but she is also so gifted with her writing that it touches a special place in my heart.
Thank you Amy for sharing your wonderful characters with me – they will not be easily forgotten!  I can't wait to read what you have in store for us next (and can only hope for more Christian and Elizabeth and to see where these characters and this family goes from here!)  THANK YOU!
Character Inspirations
About the Author
A.L. Jackson is the bestselling contemporary romance author of Pulled, Take This Regret, and When We Collide. She lives in Southern Arizona where she's surrounded by her amazing family and friends.
Website http://aljacksonbooks.blogspot.com/
Facebook http://www.facebook.com/ShhMomsReading#!/ALJacksonbooks?fref=ts
Goodreads  http://www.goodreads.com/aljackson