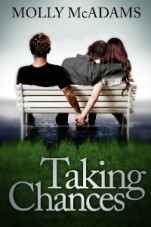 5 STARS!!!
Summary
Eighteen year old Harper has grown up under her career Marine of a father's thumb. Ready to live life her own way and experience things she's only ever heard of from the jarheads in her father's unit; she's on her way to college at San Diego State University.
Thanks to her new roommate, Harper is introduced to a world of parties, gorgeous guys, family and emotions. Some she wasn't expecting yet, and others she never knew she was missing.
She finds herself being torn in two as she quickly falls in love with her boyfriend Brandon, and her roommate's brother Chase. Covered in tattoos, known for fighting in the Underground and ridiculously muscled…they're exactly what she was always warned to stay away from, but just what she needs. Despite their dangerous looks and histories, both adore and would do anything for Harper, including stepping back if it means she's happy.
Her first year away is turning out to be near perfect, but one weekend of giving in to heated passion will change everything.
Due to sexual situations and language, this is Mature YA/New Adult. Recommended for ages 17+
Denise's Review
It's not about what life gives you, it's about what you do with it!  Ms. McAdams proves this in spades in Taking Chances.  It is a wonderfully powerful and emotional book – making readers feel so many emotions is a rare gift!!
Ok, I am going to write this review as spoiler free as possible – which may limit what I write but please do not take the length of this review as any indication of my love for this book because I could not put this book down and a day later I cannot get the story out of my heart (to me that is the definition of a 5 star read)
The book opens with Harper departing the controlling and cold environment of home, run by her single career Marine father.   College life at San Diego State University brings Harper a life she has never experienced – men, parties but more than that emotions, family and love – unconditional love.  Ms. McAdams uses a cast of characters to show how the unconditional love of family is what life is truly about.  Harper's bond with her roommate Bree and her family helps this story develop and pulls the reader close to this "family."
Harper soon finds herself drawn to two men, Chase the brother of her roommate and Brandon his housemate.   The author does an amazing job relaying Harper's attraction to each man and theirs to her.  Brandon becomes the definition of unconditional love; his actions and reactions to Harper will melt your heart!  Chase is a man who internalizes his love for Harper and truly works to make himself a better man.  Each character has a backstory what allows the reader to understand and to bond with them.  
As the blurb says: One Weekend forever changes Harper's life! The events put into motion from this one weekend make for a roller-coaster of events and emotions that will stay with you long after you finish this book.
I adored this book.  I thought the end was really well done and there was some imagery that truly added to this story.  This was full story.  It did not end with them just being together – it shows them happy (no I will not tell you who) and building a life together. A life surrounded by love, the truly wonderful unconditional love of family!
Please be warned you will cry when you read this book.  If you are not Ok with that then pick something else to read.  But if you want to read a powerful and endearing story of second chances and perseverance, I strongly encourage you to read TAKING CHANCES.
Ms. McAdams, I am very much looking forward to STEALING HARPER, the story being told in Chase's POV.
About the Author
Grew up in California but now live in the oh-so-amazing state of Texas with my husband and furry daughter. Some of my hobbies include hiking, snowboarding, traveling and long walks on the beach…which roughly translates to being a homebody with the hubby and dishing out movie quotes. When I'm not at work, I can be found hiding out in my bedroom surrounded by my laptop, cell, Kindle and fighting over the TV remote. I have a weakness for crude-humored movies, fried pickles and love curling up in a fluffy comforter during a thunderstorm…or under one in a bathtub if there are tornados. That way I can pretend they aren't really happening.
Twitter MollySMcAdams
Website http://mollymcadams.blogspot.com/
Facebook www.facebook.com/Author.Molly.McAdams
Goodreads http://www.goodreads.com/author/show/6436698.Molly_McAdams