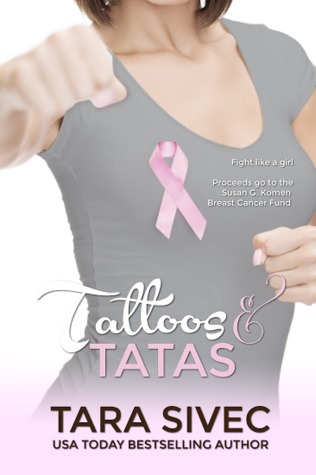 Tattoos and Tatas

by Tara Sivec
on October 1, 2014
Buy on Amazon
Goodreads


During the month of October, 100% of the proceeds from Tattoos and Tatas will be donated to breast cancer awareness.

Claire and Liz have always had a friendship that defied the test of time, but when one of them is diagnosed with a disease that every woman fears, their bond is put through the wringer. How do you cope knowing your soul mate could be taken from you?

Filled with memories of their life long friendship, inappropriate behavior, bad tattoos and shaving cats, the two friends will realize that laughter really is the best medicine.

Tattoos and TaTas is not your typical love story; it's a story of friendship and learning how to let go when something is beyond your control.
I adore this series and this story is something very near and dear to many of our hearts because it's not just a story..it's real life and happens to people we know and love…Breast Cancer.
Claire, the pillar of strength for many, has breast cancer and chooses to fight. The people who love her with all their hearts will try to put up a good front with their characteristic bantering and funny antics that had me smiling and laughing out loud. But the true testament to Ms. Sivec's writing is how she can delve in and write such a real story of hope and love while giving us the emotion, the laughs and tears that she just does so well.
This is a short novella that gives us a look into the characters we have come to love. Told in past and present POV's, Tara has yet again given us a must read in a series that I just adore with my whole heart. I love these people..I wish I knew these people. Tara has given us something so special with this cast of characters that they will continue to be a must read on my TBR! <3
♥READ THE SERIES♥
Book 1 – Love and Lists
Book 2 – Passion and Ponies
Book 3 – Tattoos and Tatas