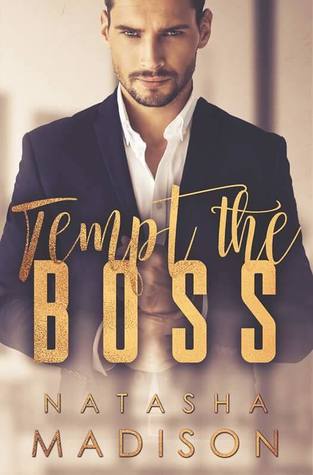 Tempt the Boss

by Natasha Madison
on March 1, 2017
Pages: 228
Buy on Amazon, Buy on B&N, Buy on iTunes, Buy on Kobo
Goodreads


Lauren
Going back to work was supposed to be a painless transition, but when my new boss turns out to be an arrogant, cocky jerk, he quickly turns my professional life into a world of torture. Okay, fine, calling him an asshat before knowing he was my boss wasn't my finest moment. Hating him should be easy. I just never counted on him being so gorgeous or charming when he's not annoying me.

Austin
I expected my new assistant to be professional and punctual, but all I'm getting are dirty looks and rude comments. I should fire the little hellion, but instead all I can think about is bending her over my desk and breaking every rule I've ever made for myself.

One look. One touch. One night. If we break the rules, our lives will never be the same again.

Good thing rules were made to be broken. And besides, it feels so good to Tempt the Boss.
This is the second book I have read by this author. It was wonderful to see her growth as a writer and it was even more enjoyable to find a book that grabbed my throat from the moment I opened it—one that then made me smile and in the end make my heart full!
This author made me feel a range of emotions and kept me wanting to read! I was lucky enough to be able to spent the day living with Lauren and Austin.
As the title suggests this is an office based romance… well sort of… because Austin and Lauren's first meeting is not at the office… but it is SO much fun! Nope not telling read the book!
Lauren is a mom of two returning to work because … well I am not telling you why because again you need to read the book… as you can tell this is a well crafted story arc.
The attraction between Lauren and Austin is clear. I loved how others around Austin saw that… even more than that, I love that even though Austin was successful, the author reminds the reader through Lauren sexy doesnt have to be about money—taking care of the children, helping around the house… those things are a major turn on!
How Lauren and Austin find a happy that balances work and family was so perfect and I thoroughly enjoyed the balance it took to get them there.
Side note—how Lauren ended up back at work gets an epic karma screw you! I know I know vague… sorryyyyy… I had to say I loved, loved, LOVED this but I do not in any way want to spoil it!
P.S. I am very much looking forward to Something So Perfect—Matthew & Karrie's story.
P.S.S. Christine just read this review and based on the review, the excerpt below and the graphic teasers #OneClicked LOL

"John! Get the fuck in here," I whisper-yell angrily….
He walks in, and I close the door as he looks down and gasps, taking in the state of my balls. "What the fuck, dude?!"
"I don't know what's going on! I was sitting in the meeting when I felt a prickling sensation. I thought my pants were just tight. Dude." I look down. "My balls."
I look up again to see that John is standing there, a hand over his mouth, his eyes wide. "You need to go to the doctor. Jesus, do you think they'll explode?" he wonders as he crouches down — a little too close considering our relationship — to get a better look.
"Get the fuck away from my balls, please."