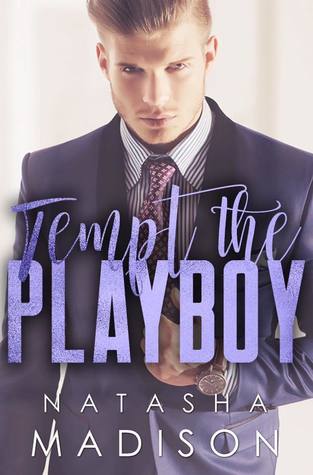 Tempt the Playboy

by Natasha Madison
on October 9, 2017
Buy on Amazon, Buy on B&N, Buy on iTunes, Buy on Kobo
Goodreads


play·boy
ˈplāˌboi/
noun
a wealthy man who spends his time enjoying himself, especially one who behaves irresponsibly or is sexually promiscuous.
Synonyms: socialite, pleasure seeker.

Noah
I have it all, money, looks, and any woman I want.
Till I meet her and my universe is knocked on its ass and she wants nothing to do with me.

Kaleigh
My motto: never date the same man twice. I have less chance of breaking my heart that way.
Till my eyes land on the only man I'll break my rule for.

She thinks she can run. That I'll let her get away.

He thinks he can handle a woman like me.
He has no idea.

A man who has it all needs one thing and one thing only. A temptress.

Watch me Tempt the Playboy.
Tempt the Playboy can easily be read as a stand alone as the timeline overlaps that of book 1 Tempt the Boss. If anything it may make you want to read book 1 after.
In Book 1 Tempt the Boss, readers met Kaleigh, the quirky sister of Lauren and Noah (the hero in this story) is Austin's best friend.
The timeline for much of Tempt the Playboy overlaps book 1. I did have to force myself to read slow as having read book 1, I soooooo wanted to know what happened after book 1 ended. It was real effort not to speed read to get to the new timeline.
Tempt the Playboy hooked me from the moment I opened it. Despite the name this book is about Kaleigh "tempting" Noah or trying to catch the playboy, quite the opposite.  That is much of what I loved about this book, I LOVED NOAH!
Noah knows what he wants and he goes after it—pursuing Kaleigh, trying to woo Kaleigh, being open with Kaleigh and others around him about how she is different. There is never any hint of Noah's past ways even coming into play. Why? Because again it is clear that Noah knows he has met the woman he wants forever.
Tempt the Playboy is a must read for readers who love their heroes to want the heroine, readers who love pure or pure and hot and sweaty romance. Because yes this book is hot too!  Noah is all that and a bag of chips, but Kaleigh is also very sexual and in touch with her desires. These two burned up the pages all while it being clear to the reader (even if not to Kaleigh at first) that this is so much more than sex.
Natasha Madison has quickly become an author I know I can count on for swoon worthy male leads who help me continue to believe in romance!


"Let me ask you," I finally speak up. "If someone would be doing goat yoga, would they wear a jock strap?"
They both stop talking and blink at me. Austin starts first, "Why the fuck would you be going to yoga, let alone goat yoga?"
"Kaleigh said she doesn't fuck the same guy twice. So, I convinced her that we can be friends," I say, folding my hands on my stomach.
"You've never been friends with a woman in your life," Austin and Harvey say at the same time.