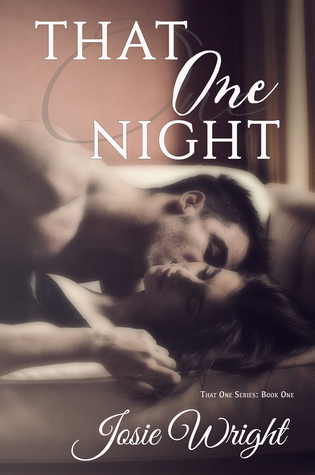 That One Night

by Josie Wright
on June 24, 2015
Buy on Amazon
Goodreads


All it takes is just one moment to change the course of your life. For me, it was one perfect night.
I have always had a thing for my brother's best friend, Ben. When I found him on my parents' couch, drowning his sorrows in a whiskey bottle, my attempts to comfort him quickly turned into a night of raw and intense passion.
My foolish heart hoped he might feel the same way I do.
But Ben wasn't there to stay and I woke up the next morning alone with a broken heart.
I attempted to forget the guy with a smile to die for and a touch that sets me on fire.
I thought I was over him.
I thought he was gone forever.
Until, eighteen months later Ben returns and learns my secret. Now, he is hell-bent on winning me back.
He plays dirty.
And he won't stop until he gets what he wants—me.

But he has secrets of his own.
Secrets that could destroy everything we might have and everything we are.

Not suitable for under 18's due to strong language, violence and sexual content

This book is an interconnected standalone and first in the series.
approx. 86,000 words
This blurb grabbed me a few weeks ago when I added this one to my to read list..I want to start by saying reading the blurb will have most thinking they know how this one on folds and on some level yes, you do, but the secrets are layered in this one making for a wonderful read.
Having said that I am going to try to keep the review to only what is revealed in the blurb, which is that Francine (Frankie) is the mom to a young son from "That One Night" with her brother's best friend, Ben.
I am going to pause here and say I loved Ben, I know I know… a man who had sex and ran, a man who leaves a childhood friend alone and pregnant should have me pissed but there are reasons and there were so many times my heart hurt for Ben.
Speaking of things I loved, I adored watching Ben learn to become a Daddy and his easy way with Archer his son, captured my heart.  I also loved Ben's mom and in the end the use of her spoke volumes to this author's ability to weave a story together.
The connection Ben and Frankie share is tangible to reader and as they reconnect it was so enjoyable to see them create a family before they jumped back into bed, oh and when they do yes, this book gets hot!
That One Night did an amazing job with the theme of mental illness and the fear that surrounds it.  Those who know me know this theme is close to my heart. Ms. Wright did this theme justice and then some. How it was handled and the "why" truly allows the reader to feel that Ben, Frankie and Archer will be happy together (nope not explaining).
If you love second chance romance or friends to lovers stories, I highly recommend this one!