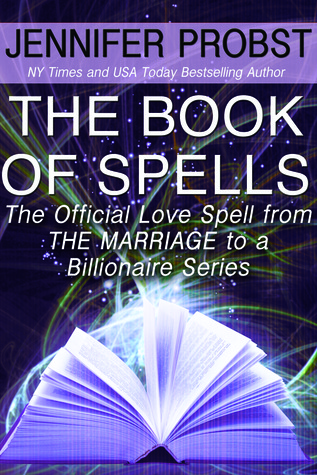 ---
4 STARS!!!
Synopsis
The Official love spell from the Marriage to a Billionaire series And an exclusive short story with Nick and Alexa from the bestseller The Marriage Bargain.
Christine's Review
This was a quick yet excellent addition to one of my favorite series the Married to the Billionaire Series by Jennifer Probst. It was interesting to see all of the details in The Book of Spells that has created so much success in love with the characters in this series.
Alexa and Nick are my favorite of all of the couples and I loved revisiting them and seeing how life has progressed for them. They are in love as ever with the additions of two beautiful girls. I loved when we were introduced to Old Yeller in The Marriage Bargain and am a huge dog lover so of course this touched a piece of me seeing him so sick. Dogs are not just animals. They become an integral part of your family and I could feel Nick's pain throughout this short story. This crisis brings out some of Nick's insecurities but I am pleased to see how Alexa remains by his side and provides her strength and love to help overcome his feelings of unease.
I look forward to reading The Marriage Merger in July and all works by Ms. Probst. Another job well done!
About the Author

Jennifer Probst wrote her first book at twelve years old. She bound it in a folder, read it to her classmates, and hasn't stopped writing since. She took a short hiatus to get married, get pregnant, buy a house, get pregnant again, pursue a master's in English Literature, and rescue two shelter dogs. Now she is writing again.
She is the NYT and USA Today bestselling author of The Marriage Bargain. She is published both erotic and sexy contemporary romance with Entangled, Decadent, Red Sage and TWRP. She has also written a children's book, Buffy and the Carrot, co-written with her twelve year old niece, along with a short story, "A Life Worth Living."