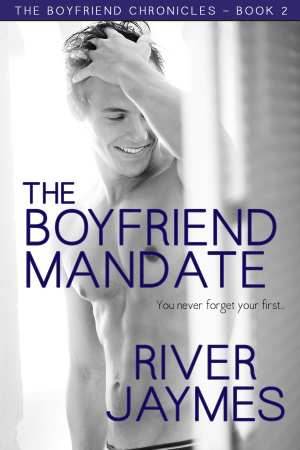 The Boyfriend Mandate

by River Jaymes
on September 23, 2014
Buy on Amazon
Goodreads


Stuntman and two-time cancer survivor Memphis Haines excels at beating the odds. When he's presented with the opportunity to help his ex-boyfriend with a charity event, he jumps at the chance to make up for the devastating way he left Tyler ten years ago. Memphis might have taken the college geek's virginity, but the former mathelete is now a hell of a head turner. And Dr. Tyler Hall's cool reserve is a challenge Memphis can't resist. A self-confessed rule breaker and line crosser, he keeps turning up the heat with one goal in mind: to melt the man's composure.

Tyler Hall sticks to one simple mandate: no more dating ex-boyfriends. Ever. He certainly isn't interested in hooking up with Memphis Haines, the ex who jumps off of buildings, dodges explosions, and poses for designer underwear ads.  Ten years ago, falling for Memphis changed Tyler's life. The man's abrupt departure turned his world inside out. But he moved on long ago. Besides, he has a clinic for the homeless to run, patients to take care of, and no time to deal with the trouble his ex brings. Memphis, however, seems determined to rehash the past. And his boxer-dropping grin, hard body, and confident charm are resurrecting ultra-hot memories best not remembered, making Tyler's rule harder and harder to keep…
Readers met Tyler Hall in book 1, The Backup Boyfriend, as Tyler is Alec's business partner and ex-boyfriend in the Front Street Clinic. You hear hints of Memphis Haines in The Backup Boyfriend as he is Ty's ex, yes this is a second chance romance.
And no you do not need to read book 1 to love this book. Ms. Jaymes does an amazing job pulling the reader right in as Tyler comes to Memphis due to an article in the press; the press, yes the press as you see Memphis is now a big time Hollywood Stuntman and poster child for cancer survivors having beaten cancer twice.
I loved the connection Memphis and Tyler have but more than that I loved that this book centered around them getting to know each other again. 10 years later, these men are very different people especially Tyler. Ms. Jaymes did a wonderful job at showing the back story but an even better job at having these men communicate about how things went wrong. Yes, it was often painful to read but in the end, the happy developed is not one they could have had 10 years ago. These now successful men needed to grow-up to have their forever happy.
This was the kind of book I did not want to put down; I wished I could have curled up and living in this world from cover to cover.
There are some truly wonderful scenes with secondary characters in this book; Memphis with his family when Ty and he were younger and the scene with Memphis with teen cancer survivors toward the end was just WOW! Watching him open up touched my heart.
If you have read book 1, you will love the scenes with Alec and Dylan. And as before, Noah is still just as funny. I truly thought tying Dylan's and Noah's painful pasts helped move the story forward.
In the end, Tyler is now the man Memphis needs and Memphis truly is Tyler's forever happy.
I am very much looking forward to book 3 Noah's book, this man who is always joking but who the reader knows deep down lost part of his heart when he lost Rick…. well I can't wait to see Ky (shh you meet Ky in the epilogue) help Noah heal.
Thank you Ms. Jaymes for a cast of men who have taken up residence in my heart.
♥READ THE SERIES♥
Book 1 – The Backup Boyfriend
Book 2 – The Boyfriend Mandate