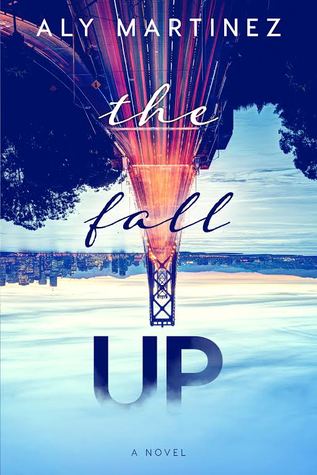 The Fall Up

by Aly Martinez
on October 26, 2015
Buy on Amazon
Goodreads


I wanted to jump.
He made me fall.

As a celebrity, I lived in the public eye, but somewhere along the way, I'd lost myself in the spotlight.

Until he found me.

Sam Rivers was a gorgeous, tattooed stranger who saved my life with nothing more than a simple conversation.

But we were both standing on that bridge for a reason the night we met. The secrets of our pasts brought us together—and then tore us apart.

Could we find a reason to hold on as life constantly pulled us down?

Or maybe there's only one direction to go when two people fall in love at rock bottom—up.
The Fall Up  is a top read of 2015 for me  and I don't even have to go back to this year's books and review the list to make sure it makes this list. This book was amazing on so many levels. This is a 5 star, couldn't put down, read the epilogue twice kind of great book!
I will pause and say this review may get personal on a few levels giving you insight into me as well as the book but it is likely the best way to tell you why on so many levels this book touched my soul.
When I read the blurb to this book, it immediately grabbed me. I had been in a book slump of sorts and nothing was really engaging me….. well, I am so happy I opened this one up! My book slump was cured in spades and I was reminded of how much fun it is to get lost in a great book! So this was the first touch my soul part (the second reason you will see as I go into my review).
The Fall Up is the story of two strangers who meet on the edge of a San Francisco bridge (yes, the author went there…trust me it so works without being sad).
Pop princess, Levee Williams is contemplating her life when she meets Sam Rivers, a man on the bridge for a different reason, one that is deeply tied to the story and it's development.
Sam's desire to help, shines through from the moment you meet him, the empathy and connection he feels for Levee pulled me right in.
"I get it. You don't know me, but in some ways, that makes me the perfect person to talk to. So, please, I'm begging you. Tell me what's going on with you. Just give me your story. I'm not here to judge."
When Sam discovers who Levee is, this story gets all sorts of interesting as their relationship is forced to take on a new dynamic:
"My name is Samuel Nathan Rivers. I'm twenty-seven. Aquarius. No criminal history. I have a clean bill of health. I'm a democrat, but for God's sake, do not tell my mom. I own a furniture shop and clear six figures a year. I'll show you my tax return if need be. I'm also not a super-fan interested in your fame. But, for the love all that's holy, I need you, Designer Shoes, to come home with me."
Amazingly, this author manages to address mental illness in many forms without making the book sad or even melancholy. I often found myself smiling from ear to ear as Levee and Sam build their relationship, one that clearly touched both of them to the depths of their souls.
When Sam truly realizes the depth of Levee's pain, his choice to speak up, to deal with whatever backlash comes from that was an OMG moment. One I hope many readers take to heart as this is the kind of statement in a story that could save lives, yes, I said it…fiction can save lives.
Given Sam's past and the state Levee is in when these two get together, it was so real and insightful how Levee questions if she is the right woman for Sam. His response has me falling even more in love with him:
"There isn't a woman in the world who doesn't have demons of some sort. No matter who I end up with, it's always going to be a struggle…..Levee, I'd like to struggle with you."
Levee's struggle was so well done. Ms. Martinez gets the reader's heart to understand her struggle without judgement or the stereotypical "you have it all just be happy" nonsense (the kind of comments related to mental illness that are so common):
My career was soaring while, personally, I was plummeting. Every single day felt like a terrifying free fall in no particular direction. I was stuck in the middle with no way up- or down.
It was amazing to me that for a book with such powerful themes that the author brilliantly manages to intertwine humor into this story:
"I'm going to need you to try really hard to keep it together, Levee. You haven't seen my six-pack and huge c*ck, yet." He smirked.
"You brought beer and chicken?"

Oh and this theme of beer and chicken made me smile as it continued to play out as an inside joke between Sam and Levee through the story.
As this book starts to draw to a close, Sam's humor and wit shined through in spades and was woven into this story with literary poise and grace:
"She wasn't the princess. And I wasn't the pauper. She was just a sad girl who liked to write songs. And I was nothing more than a simple guy who was lucky enough to have made her fall in love with him."
The tie into the title of the  book was epic and how it wrapped around the themes of the book especially in the end was true poetic genius!
I am so beyond thrilled the Levee's best friend Henry is getting a story!  Henry is kind, compassionate, funny, witty and so in need of falling head over heels for the right man, yes I said man. The Spiral Down will be a gay romance, one I am dying to read!  The Spiral Down is a definitely must read for me when it releases!
Dear Ms. Martinez,
The Fall Up was one of the best romance books with mental illness themes I have ever read.
No quick fix, no painting all mental illness with a broad brush.
Truly Outstanding!
Signed a woman who lost her brother and only sibling to suicide