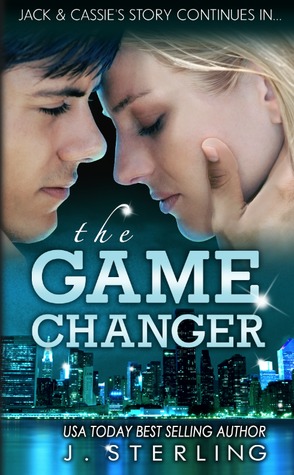 Happy Release Day to Jenn Sterling and The Game Changer!!!
Who doesn't love Jack F'n Carter?!  We couldn't wait to read this.  Thank you to the publisher for an ARC copy for an honest review.
Enter for a chance to win a copy of this book below.  Good luck!
---
4 STARS!!!
Synopsis
Jack & Cassie's story continues in the follow up to the Best Selling book, The Perfect Game.
Thrust into the spotlight, Cassie must learn how to navigate the waters of this sometimes unforgiving and cruel world. It's a lifestyle that makes you question your happiness and sanity as the past is never truly far behind.
How do you stay together when the world's trying to tear you apart?
Christine's Review
I could not WAIT to get my hands on this book.  I loved Jack and Cassie in The Perfect Game and couldn't wait to see how Jenn would take their story to the next level.
As you remember in The Perfect Game, Jack arrives at Cassie's door having been traded to the NY Mets.  The Game Changer picks up where TPG left off.  Jack has a lot of explaining to do and I am excited for him to tell his side of the story of how everything went down.
In typical girl fashion, Cassie wants to go back the 6 months that they were apart so he could tell her everything.  I loved how Jenn wrote in the past and present and showed us how Jack dealt with the months that they were separated.  Jack knew he had to get his shit together, to get his marriage annulled before he could even consider chasing after Cassie (or as she would say "prove it.")
In TPG, Jack was the cocky bad boy.  In The Game Changer, we still saw cocky Jack (who I ADORE!) but we also saw his insecurities and his deep love for Cassie.  It made me connect with him even more as it was honest and real.  Jack is still Jack with his hysterical internal dialogue that had me laughing out loud and I had a big smile on my face too 🙂  I especially loved the conversations he had with his brother Dean and Melissa, Cassie's best friend aka "Funsize." 🙂
"Oh, great." Melissa rolled her eyes.  "You touched her Dean.  She's probably pregnant now."  With that comment, I couldn't hold back any longer.  Thunderous laugher ripped from my lungs and spilled out into the air.
OMG HYSTERICAL!
As life continues in the present, Jack and Cassie will deal with many obstacles that come their way.  Namely bitchy baseball wives, crazy fans, Chrystle (the ex-wife from hell), sexy as hell Matteo plus their own insecurities and trust issues.
Is love enough to overcome and conquer all?  Will Cassie be able to deal with all of the things that come up with being married to a pro baseball player and living in the spotlight?  Or will she let her own insecurities and trust issues take away the person she loves most?
You will need to read this book to find out!
I understand where Cassie was coming from living a life that she is not used to plus having to deal with learning how to trust Jack again because he cheated.  What I loved about Jack was that he went above and beyond to prove himself to her over and over again in this book.  He loves his Kitten and I had no doubt in my mind of how much he was willing to do to be with her.  To me, they were always a team – they were meant to be together and I didn't want Cassie to continue to run away from her problems and shut him out.  She had a lot of growing up to do in this book but they are young still…these are issues that we have all been through in our early 20's.
The epilogue was complete PERFECTION and is not a cliffhanger but allows for Jenn to continue this story and wrap it all up in a pretty bow 🙂  So I hope that there will be something following this…I'd love to hear more about what happens with the secondary characters and relationships in this story.  But time will tell if we will get more Jack F'n Carter.  I will hope and pray that we do in the meantime!
Great job Jenn….It was amazing and wonderful and a beautiful story of second chances, forgiveness, love and strength!  Thank you for giving us more of these amazing characters!!!
Favorite Quotes:

"Nothing would make me happier, Kitten, than to know my home is where you are."

"What matters the most is who you love.  Because when everything else is a distant memory, the people you love are all that's left.  And love is the single most important thing we can do in our lives.  Give it.  Receive it.  Teach others how to do it."

"You told me once that I was your game changer, but the thing is, you're mine too.  It took me a little time to realize that, but I finally did.  You're my game changer.  Because nothing else matters if you're not with me."
About the Author
I got fired from my last job. It's true. I know you're sitting there thinking "Jenn, how could anyone in their right mind fire someone as amazing and awesome as you???" And i'd love to give you a good reason, but the truth is- being this awesome is clearly very scary to other less awesome people.
So I said screw them and started writing my first book. And you know what I realized? Writing books that mean something to me is a million times better than working for my ass off for someone who doesn't really care about anything other than the bottom line.
My soul feels more satisfied.
My heart, more full.
So thank you for reading, loving and recommending the stories I write.
I appreciate it more than you know. 🙂
Book 1 – The Perfect Game – Christine's 4 STAR review can be found here.