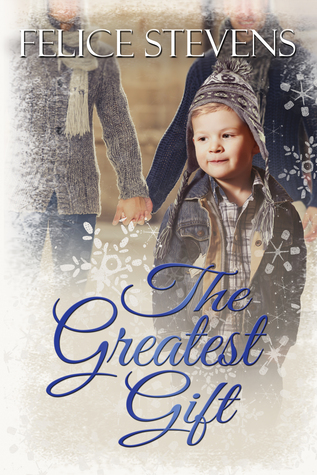 The Greatest Gift

by Felice Stevens
on December 10, 2015
Pages: 86
Buy on Amazon
Goodreads


After five years, Alex Stern and Rafe Hazelton have what seems to be the perfect marriage. Alex is entering his last years of residency and Rafe's veterinary business is busier than ever. For Rafe, all that is missing is a child, but Alex, afraid of ending up to be a man like his father, isn't as sure. He doesn't want to make any mistakes.

When a new patient enters the hospital, Alex is drawn to the young, desperately ill single mother, who shares her fears for the future of her young son. Rafe worries about the toll on Alex becoming emotionally invested in a patient, yet he too can't walk away once he meets the little boy, and together they vow to help in any way possible.

Families are not always born of blood— love is a gift no one can plan for. And sometimes from the darkest of tragedies, the brightest light will shine.
The

 

Greatest

 

Gift

 i
s  a heartwarming story about 
the
 power of family and depth of love one can find in their soul!  Though this is book 3 in 
the
 series, you only need to read book 2 One Step Further to enjoy this one.
The
Greatest
Gift
looks in on Alex Stern and Rafe Hazelton five years after what seems to be 
the
 perfect marriage. We find Alex is entering his last years of residency and Rafe's veterinary business is busier than ever.
As 
the
 story develops, we learn that Rafe wants a child and Alex fears he will become 
the
 man his father was. As with many married couples it just seems to be something they don't address, it just lies under 
the
 surface, like an elephant in 
the
 room. That is until Alex encounters a very ill patient, a single mother.  As these two bond and Jude shares her fear for what will happen to 
the
 little boy left behind. When Dylan enters 
the
 picture, this story becomes something so touching!
Ms. Stevens did a wonderful job writing Dylan, 
the
 bonds he develops, his struggle with having a sick mother all felt so real. Though at times Jude's struggle was hard to read, though my heart broke for her….it was so well written, it kept me glued to my kindle.
There were a few moments in this one that had me loving Alex even more (standing up to 
the
 brass was a whoo hoo moment).
I loved seeing 
the
 development of these characters over time, seeing Alex's mother was so much fun, showing that at any age you can mend and rebuild relationships.
I loved 
the
 end of this one…Rafe celebrating his first real Hanukah, receives a perfect 
gift
 for him and Alex!  And personally I love seeing Micah and Josh (from book 1) are there to, to celebrate.
The happy that Rafe and Alex find is so perfect!
♥ Read the Series ♥