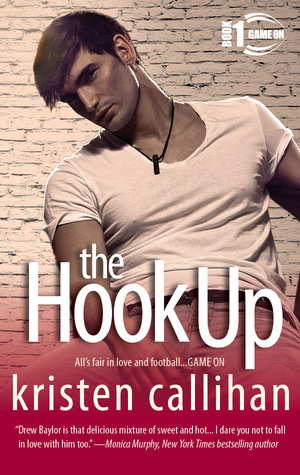 The Hook Up

by Kristen Callihan
on September 8, 2014
Pages: 335
Buy on Amazon
Goodreads


The rules: no kissing on the mouth, no staying the night, no telling anyone, and above all… No falling in love.

Anna Jones just wants to finish college and figure out her life. Falling for star quarterback Drew Baylor is certainly not on her to do list. Confident and charming, he lives in the limelight and is way too gorgeous for his own good. If only she could ignore his heated stares and stop thinking about doing hot and dirty things with him. Easy right?

Too bad he's committed to making her break every rule…

Football has been good to Drew. It's given him recognition, two National Championships, and the Heisman. But what he really craves is sexy yet prickly Anna Jones. Her cutting humor and blatant disregard for his fame turns him on like nothing else. But there's one problem: she's shut him down. Completely.

That is until a chance encounter leads to the hottest sex of their lives, along with the possibility of something great. Unfortunately, Anna wants it to remain a hook up. Now it's up to Drew to tempt her with more: more sex, more satisfaction, more time with him. Until she's truly hooked. It's a good thing Drew knows all about winning.

All's fair in love and football…Game on.

New Adult/Contemporary Romance with a HEA - Recommended for readers 17 and older.
You know when you pick up a book by an author you have never read before, going in without any expectations but then realizing after the first page that you have stumbled upon a gem of a book that you are so glad you picked up in the first place?!??!?
Well that is how The Hook Up made me feel. I was literally smiling to myself for almost the entire read (that if anyone saw me, they would probably think I was crazy lol).
This is my first book to read by Kristen Callihan and will most definitely not be my last.
Written in dual POV, I REALLY did have a smile on my face and warmth in my heart from Drew and Anna's very first encounter. Completely captivating and well written, I adored every single aspect of this story – the drama, the characters, the realism of it all – it really was a perfect read for me.
And though this story may have been done before, where college boy likes girl and their hook up ends up becoming more, I truly felt that Kristen Callihan made it different; almost better because of the magical way she wrote this story incorporating such thoughtful and emotional elements that it brought this story to a whole other level.
What I loved?
Their connection – not only just hot sex but the fun, witty bantering complete with emotional moments that really pulled at my heart and made me root for this couple to work out
Drew Baylor – not your typical college boy; patient, kind, understanding, honest and true – he has a true heart of gold and I loved him completely. I love how Anna made him tongue tied and out of his element where he really did have to get his "game on" to really work for her to respond to him. I just liked him A LOT! Have I said that already?! Drew had his work cut out for him teaching Anna to trust in him. He was relentless, he wanted it ALL and watching him help Anna overcome her fears and insecurities really touched my heart.
Anna Jones – though frustrating at times, once overcoming her fears, watching her turnaround and pour those emotions and feelings and love into Drew when he needed her the most brought me to tears. I was just SO happy!!!
Their first kiss – probably the best first kiss in the history of first kisses…it was bittersweet for me and I felt the passion emitting from my kindle; it consumed me
The PERFECT epilogue – a HEA that had me closing my kindle feeling completely satisfied, happy with all the feels
There isn't really anything more I can say other than BUY IT! You will not regret it. If you are looking for that next book that will just make you feel, look no further than The Hook Up! I look forward to much more from Kristen Callihan!!! <3