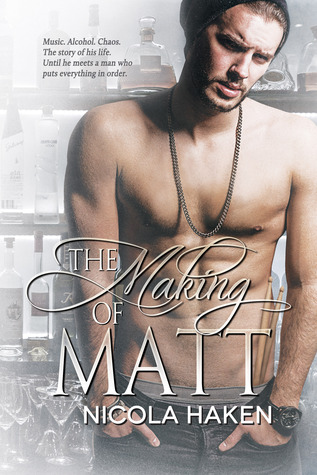 The Making of Matt

by Nicola Haken
on October 19, 2015
Buy on Amazon
Goodreads


Matt Carter, self-proclaimed sex-god and drummer for world renowned Souls of the Knight, didn't have the time or inclination for planning his future, preferring to fill his days with music, women and alcohol. He didn't want or need anything else in his life.

Until the band parted ways and he found himself no longer living the dream.

Bored and lonely, with too much time and money on his hands, Matt turns to his best friend, Alex Clark, to help devise a new direction to take his life in. Together, they embrace their newfound venture, as owner and manager of one of L.A.'s hottest gay clubs – Kaleidoscope. For the first time, Matt has a plan. He knows where life is heading.

Until a devastating phone call turns his whole world upside down, sending him straight into the comforting arms of his best friend and leading him to doubt everything he's ever known or believed about himself.

Alex had always been content with his unrequited feelings for his rockstar friend, but as Matt starts to question if he might actually feel the same, he runs as fast as his feet will allow.

Has Matt gone too far? Has his reputation as an irresponsible womanizer who refuses to take life seriously, finally managed to push his best friend away for good?

Or is Alex hiding secrets of his own?
Matt Carter is or rather was the sexy and hilarious drummer of Souls of the Knight. I say "was" because in the prior book in the series, the band has broken up, not because the members don't want to be together but simply because they are each moving on with their lives. In this book, the author does a wonderful job at showing these men's friendships as each moved forward with their lives.
The Making of Matt is the story of Matt and new best friend Alex Clark.  So, yes this is a friends to lovers story.  But it is one with a twist because what happens when Matt, a man who was never attracted to men before, gives into this attraction to Alex is a pivotal point is this story. Matt gives into his attraction only to learn that Alex, a man he thought he knew everything about, is harboring a secret. And I mean a real big life altering secret.
I am going to pause here and say you are NOT going to get the secret here…READ THE BOOK.
This element once exposed took this book to a whole new level. It was handled with poise and grace and truly kept me glued to my kindle as Matt and Alex worked to repair their friendship and to truly address – could their relationship be taken to the next level and how the logistics of that would work.
There was no doubt in my mind as I read this book that Matt and Alex were meant to be together.  I loved how open Matt was, being attracted to Alex never bothered him, he was truly comfortable in his own skin and that made me love him even more!
"When something happens in your day, big or small, good or bad, they're the person you can't wait to tell. They're the person you can sit in silence with for hours without feeling uncomfortable. The person you can insult but would defend to the ends of the earth if anyone else dared to try. When you see them, hear from them, or even just think about them, they'll make your heart smile."
I loved loved seeing Jake and Sawyer from book 1 – if you have not read this book (Being Sawyer Knight), I highly recommend it!
I adored the role Sawyer took on in this book, his advice and pushing Matt spoke to the depth of their friendship.
And Sawyer's conversations with Matt often had me smiling from ear to ear:
"Right, let's get back to right before you kissed him. What were you doing?"
"Laundry."
"Laundry?" You were doing laundry?"
"Yes, I was doing laundry." I huffed, growing frustrated. "Now can we get back to the real issue here?"
"Sorry but you have to admit that's almost as shocking as you kissing a dude."
Oh speaking of relationships, I should add I loved the use of Matt's Mom and the circumstances that played out around her character (nope not telling here either). It truly added to the story and highlighted the depth of Alex and Matt's connection.
Ms. Haken manages to address some very serious topics in this book while weaving in humor and wit.
♥READ THE SERIES♥
Book 1 – Being Sawyer Knight
Book 2 – Taming Ryder
Book 3 – The Making of Matt
Amazon US: http://amzn.to/1OxAs8H
Amazon UK: http://amzn.to/1jqXhOA
Amazon CA: http://amzn.to/1GIIiUO