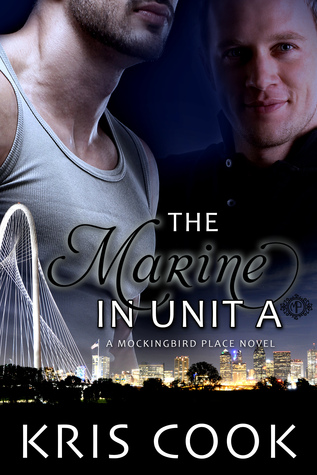 The Marine in Unit A

by Kris Cook
on September 15, 2015
Pages: 169
Buy on Amazon
Goodreads


The man who has been more of a dad to me than my biological father is dead.

He rescued me from the streets six years ago—a runaway teenage boy, escaping a family who thought I was an abomination.

Now what do I do? I have no one.

My life might look great from the outside. I'm in college. I have my own apartment. I have lots of friends.

But I'm dying on the inside.

I feel so alone. Lost. Hopeless.

I'm not the kind of person to wallow in self-pity. I need a distraction.

The guy moving into Unit A may be just what I need to take my mind off of losing my dad.
The Marine in Unit A opens up with a heart pulling scene and as this part of the story builds, the reader learns that the residents of Mockingbird Place are family to each other. This part of the story was so well done, Mr. Cook bonded each character to the reader with glimpses into their backstory.
The reader soon learns that Oliver, the man we meet when the book opens, was disowned by his family and taken in by the now deceased owner of Mockingbird Place.  Witnessing the new lease on life Oliver was given and the love he now carries in his heart showed the beauty of humanity even after the darkest part invade one's life.
Oliver's first meeting with Adam, the new resident of the apartment complex, was adorable.  Being a witness to Oliver and Adam's unlikely friendship kept me wanting to keep reading this story.  My heart was drawn to Adam as he was so unsure of what he wanted and how to navigate his life outside of the Marine Corps.
As a side note, I adored the use of Adam's family; both his mom and grandfather added such layers and depth to the story.
I truly enjoyed Adam's journey to happy, this wounded Marine (nope not telling you what because it adds to the unfolding of the story) touched my heart.  His pain was real and the opening of himself to these new people in his life allowed him to grab a happy he never imagined.
I was excited to learn that this series will continue, next up and on my to read list The Cowboy in Unit E.