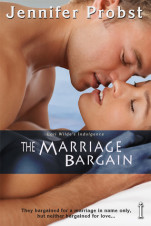 4.5 STARS!
Summary
A marriage in name only…
To save her family home, impulsive bookstore owner, Alexa Maria McKenzie, casts a love spell. But she never planned on conjuring up her best friend's older brother—the powerful man who once shattered her heart.
Billionaire Nicholas Ryan doesn't believe in marriage, but in order to inherit his father's corporation, he needs a wife and needs one fast. When he discovers his sister's childhood friend is in dire financial straits, he offers Alexa a bold proposition.
A marriage in name only with certain rules: avoid entanglement. Keep things all business. Do not fall in love. The arrangement is only for a year so the rules shouldn't be that hard to follow, right?
Except fate has a way of upsetting the best-laid plans…
Christine's Review
I read this book right after the Fifty Shades of Grey trilogy and I thought it was a great read that kept me smiling throughout.  Alexa needs money to help her parents – Nick is in need of a wife to inherit his Uncle's company.  The perfect plan – a marriage of convenience so that everyone wins.  I felt the explosive chemistry between Alexa and Nick from the start.  I loved how we got a glimpse into their past when they were younger and you could feel that there was always a connection between them – that they were meant for each other.
I thought that Jennifer's writing was spot on throughout the book.  I was not only pleasantly surprised with the humor where I found myself laughing out loud (at which my husband would look over at me with a puzzled look!) but I was equally excited about the passion and desire that I felt between the characters.  Jennifer drew me in and I couldn't help but root for these two to work out and get together and have a happy ending.
I absolutely loved this book and Jennifer Probst is an author that I will be following for a long time!  Great read!
About the Author
Jennifer Probst wrote her first book at twelve years old. She bound it in a folder, read it to her classmates, and hasn't stopped writing since. She took a short hiatus to get married, get pregnant, buy a house, get pregnant again, pursue a master's in English Literature, and rescue two shelter dogs. Now she is writing again.
She is the NYT and USA Today bestselling author of The Marriage Bargain. She is published both erotic and sexy contemporary romance with Entangled, Decadent, Red Sage and TWRP. She has also written a children's book, Buffy and the Carrot, co-written with her twelve year old niece, along with a short story, "A Life Worth Living." Visit her website for more info!
Twitter jenniferprobst
Website http://www.jenniferprobst.com
Facebook https://www.facebook.com/jenniferprobst.authorpage?ref=ts&fref=ts