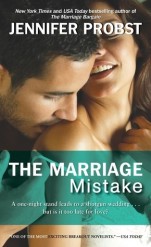 4 STARS!!!
Summary
Carina Conte has had a crush on her brother Michael's best friend, Max Gray, since she was a teenager. Now she's earned her MBA and come to work at Michael's new venture, America's fastest-growing bakery empire. But some things never change: her family still treats her like a child. With three drop-dead gorgeous siblings, she's still the ugly duckling of the bunch. And Max, the company's new CEO, still barely notices her.
Max knows Carina Conte is strictly off limits. But hot-blooded lust wins out at a conference when the two share a scorching one-night stand—and are busted by her mother! Now, forced by old-world Italian tradition into a marriage he's not ready for, Max is miserable—and Carina is furious. Her new husband is about to realize that hell hath no fury like a woman transformed….
Christine's Review
Carina Conte is the baby of the family.  Everyone is over protective of her.  Ever since she was a teenager, she has had a crush on her brother, Michael's best friend – Maximus Gray.  On a trip home from college, she realizes that she will never be looked at as a woman and will always be treated as a child by her family and Max, so she continues to pursue her college degree and MBA in earnest to prove that she is a strong woman and that she can make it on her own.  That she, herself will no longer be weak and she will be the one to make her own decisions for her happiness.
Upon graduating with her MBA, Carina moves to the U.S. to help her brother with his bakery empire.  Thinking that she will be placed in the accounting/finance department where her strengths lie, she is surprised to learn that she will be working under Max so that he can show her and teach her the ropes.  And what ensues is Jennifer Probst at her story telling finest!
I loved the third installment of the Married to the Billionaire Series!  Carina is a bad girl trapped in a good girl body.  Carina is still a virgin who has saved herself for someone exciting and challenging both physically and emotionally.  Max is surprised and intrigued by this new Carina.  How did he never notice her before?  Max has a deep sense of loyalty to the Conte family as they have always treated him as their own.  He is a man full of love and too afraid to give in.  From the first moment that Max and Carina are in the same room together, you can feel their chemistry though they do their best to deny it.  Carina does her best to forget Max and to flirt and meet other guys.  But Max is always on the other side trying to scare her dates away!  Throughout the book, you can literally feel the sexual tension coming from these two.  And there was no doubt in my mind that though they tried to fight it, that there was no other woman for Max and no other man for Carina.  These two were meant for each other!
It broke my heart when Carina leaves him after he finally confessed his love for her.  But I understood that she needed to prove herself and to find herself.  She needed to know that she was strong on her own before she could be strong for Max.  I felt hurt and distraught when they were not together.  But in my heart, I knew that their bond was so strong that nothing would be able to separate them and that they would be together in the end.
I have loved the Married to the Billionaire Series since the beginning.  And I will continue to recommend them to my friends as I love how Jen writes about love and how you just smile throughout her books.  They just make you feel so good!  I saw on a blog that there will be a fourth in the series and I have a pretty good idea of who will be next!  I CAN NOT wait for more of Jennifer Probst and this wonderful family!  Another great job!!
About the Author
Jennifer Probst wrote her first book at twelve years old. She bound it in a folder, read it to her classmates, and hasn't stopped writing since. She took a short hiatus to get married, get pregnant, buy a house, get pregnant again, pursue a master's in English Literature, and rescue two shelter dogs. Now she is writing again.
She is the NYT and USA Today bestselling author of The Marriage Bargain. She is published both erotic and sexy contemporary romance with Entangled, Decadent, Red Sage and TWRP. She has also written a children's book, Buffy and the Carrot, co-written with her twelve year old niece, along with a short story, "A Life Worth Living." Visit her website for more info!
Twitter jenniferprobst
Website http://www.jenniferprobst.com
Facebook http://www.facebook.com/nwilliamsbooks?ref=ts&fref=ts#!/jenniferprobst.authorpage?fref=ts