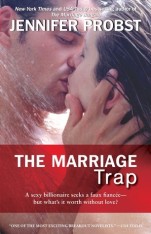 4 STARS!!!
Summary
WIFE WANTED…
Italian billionaire seeks faux fiancée. Willing to agree to anything in return…
In order for his sister to marry, Italian billionaire Michael Conte has to find himself a bride – and fast! When he learns that photographer Maggie Ryan is going to be in Milan, Michael hatches a plan to introduce her to his family as his "fiancée." Never mind that Maggie is confident, independent, and a control freak. Never mind that she's everything he doesn't want in a wife… and everything he wants in his bed!
Convinced that Michael is in love with her married gal pal, Maggie agrees to keep up the ruse if he'll keep away from her friend. Besides, she's not attracted to charming, ridiculously hot billionaires who drive her nuts. Once they're in Italy, however, everything changes – and the sexual tension between Maggie and Michael goes from simmer to naked nuclear meltdown!
But have they found the perfect arrangement… or are they trapped in a make-believe marriage?
Christine's Review
Mia amore!  I am a HUGE fan of The Marriage Bargain – I recommended it to all my friends.  Jennifer has done it again with The Marriage Trap!  I was so excited to read this book as I loved Maggie and Michael in the first book.  Maggie is a strong, independent woman with obvious love for her family.  Michael is sexy and strong and is also a very family oriented loving man.  There is a strong undeniable sexual chemistry between the characters.  Maggie and Michael return to Italy to fake a marriage so that his engaged sister will be allowed to wed.  Without revealing too much, Maggie has a hard time trusting and letting love in.  She remains aloof and disconnected to Michael because of her past which in turn hurts him as he is trying to break down her walls and get her to trust him.  Maggie doesn't like being out of control but she is tired of being alone.  Michael has also given up some of his dreams to run the family business and what he sees in Maggie is the excitement that he craves in his life.  What they eventually find in each other is "home".  They are true partners – soul mates.  They are meant for each other.
I truly enjoyed this book and read it in one day.  Jennifer has yet again successfully written a novel with romance, humor, and heat to have me craving more.  I cant wait until the Marriage Mistake and hope that the series continues as I don't want to let this cast of characters go!  Great job Jennifer!!
About the Author
Jennifer Probst wrote her first book at twelve years old. She bound it in a folder, read it to her classmates, and hasn't stopped writing since. She took a short hiatus to get married, get pregnant, buy a house, get pregnant again, pursue a master's in English Literature, and rescue two shelter dogs. Now she is writing again.
She is the NYT and USA Today bestselling author of The Marriage Bargain. She is published both erotic and sexy contemporary romance with Entangled, Decadent, Red Sage and TWRP. She has also written a children's book, Buffy and the Carrot, co-written with her twelve year old niece, along with a short story, "A Life Worth Living." Visit her website for more info!
Twitter jenniferprobst
Website http://www.jenniferprobst.com
Facebook http://www.facebook.com/nwilliamsbooks?ref=ts&fref=ts#!/jenniferprobst.authorpage?fref=ts