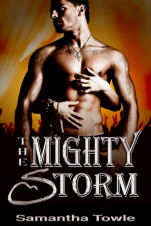 5 STARS!!!
Summary
It's been twelve years since Tru Bennett last saw Jake Wethers, her former best friend and boy she once loved.
Jake Wethers, sexy, tattooed and deliciously bad lead singer, and brains behind The Mighty Storm, one of biggest bands in the world, left Tru with a broken heart when he moved from England to America with his family when they were both fourteen.
Sent to interview Jake for her music column by the magazine she works for, they are both unprepared for the sparks that fly the instant they reconnect. Only, there's a complication to their instant feelings for one another – Will, Tru's boyfriend of two years.
Then Jake makes Tru a job offer she can't refuse – travelling the world with him and his band. But taking the job means leaving Will behind, and being on the road with the band means spending an inordinate amount of time with Jake.
Is Tru strong enough to resist the delectable bad boy who once held her heart so completely, or will she willingly risk it all for one night with the worlds most notorious womanizer?
Christine's Review
Loved loved loved this book!  This book was listed on the What to Read after Thoughtless list…I love bad boy rock stars and Jake did not disappoint!  Jake hasn't seen Tru in 12 years.  They grew up together, were best friends and shared a deep love of music.  When Jake moves away, they lose contact, never thinking that they would see each other again.  When Tru walks into Jake's hotel room to conduct an interview for the magazine she works for, you can feel that long lost love and chemistry from that instant moment.  Jake is sexy, funny and oh so romantic.  Tru has a boyfriend, Will, whom she thinks she loves with all her heart, but after seeing Jake has conflicting emotions.
Without giving any spoilers, this book takes us on a journey of such emotional feelings and angst that it leaves you wanting more.  I rooted for this couple.  I fell in love with this couple.  I even cried for this couple.  I stayed up until the wee hours of the night to finish this book because that's how good it was – I COULD NOT put it down!  I highly recommend this book to everyone!  Samantha Towle did an amazing job with her character development – you will not be disappointed.  Now to wait until the next book comes out to see where she will take this couple next….sigh!  Great job Samantha!
About the Author
I started writing seriously in 2008 while on maternity leave with my son. I completed my first novel in five months and haven't stopped writing since. I'm the author of The Mighty Storm, The Bringer & the Alexandra Jones series. I can't write a single word without listening to music. I listen to Kings of Leon, Adele, One Republic, The Doors, Muse, Oasis, Fleetwood Mac, Lady Gaga, Ed Sheeran and Lana Del Rey to name a few. I was born in Hull. I graduated from Salford University in 2002 with a BSc (Hons) in Business and Marketing. I now live in East Yorkshire with my husband Craig, son Riley and daughter Isabella.
Twitter samtowlewrites
Website http://samanthatowle.blogspot.com/
Facebook www.facebook.com/samantha.towle.56