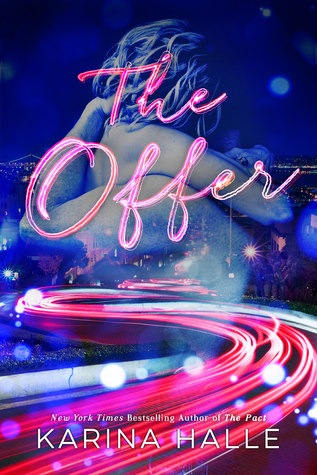 The Offer

by Karina Halle
on June 13, 2015
Pages: 271
Buy on Amazon
Goodreads


She thinks he's an arrogant playboy.
He thinks she's an uptight prude.
But he's about to make her an offer she can't refuse.

Nicola Price used to have it all – a great career, the perfect boyfriend, an excessive shoe collection and an apartment in one of San Francisco's best neighborhoods. But when she gets knocked up and her asshat boyfriend leaves her high and dry, Nicola's perfectly crafted world comes tumbling down. And stays that way.

Now, Nicola is the proud single mom to a five-year old daughter and living a giant lie. She can barely afford their ghetto apartment and all the men she dates run when they hear she comes with a child. She's struggling and scared – and nowhere near where she thought she'd be at age thirty-one.

Her saving grace comes in the form of a tall, handsome and wealthy Scotsman Bram McGregor, the older brother of her friend Linden. Bram understands a thing or two about pride, so when tragic circumstances place Nicola at rock bottom, he offers them a place to live in the apartment complex he owns. It's pretty much the perfect deal, so as long as she doesn't mind living beside Bram, a man that, despite his generosity, seems to antagonize her at every turn.

But nothing in life is free and as Nicola gets her feet back on the ground, she discovers that the enigmatic playboy may end up costing her more than she thought.

She might just lose her heart.

Those McGregor brothers are nothing but trouble...
I love everything about this book….well first and most of all is Bram..he is sexy and dirty and oh did I mention Scottish! I love a man with an accent!
What I loved MOST about this book was this was a beautiful story about grown adults so there was no unnecessary drama..it was mature, realistic and SO much fun!
So what's it about?
Well we met Bram (Linden's brother) and single mom Nicola in the Pact and The Offer is their story.
You see Bram is all fun..he is a player and dates around and is never looking for anything serious. Conversely Nicola is a single mom to her daughter Ava trying to make ends meet while also trying to figure out that next step in her life that will ultimately lead her to happiness.
I connected with Nicola, being a mom myself, so her struggle and plight for me were very real. I also connected with Bram on a different level because you see there was so much more than meets the eye to this man. Underneath the playboy was a man who really evolved as a character from the beginning to the end of this story. Bram turns out to be someone who really cares deeply, who is a protector, is kind and above all a true friend. Yes, Nicola and Bram will start off as friends but the connection and attraction between them is palpable to the reader.
Unfortunately the struggles between these two are real and nothing over the top but real in every day life. Despite secrets and trust issues, will this couple be able to take it to the next step to find a future together? Will they realize that they are worthy of true love?
You will have to read this book to find out!
Karina Halle has written the gamut of books – from suspense, to drama, to horror and now contemporary romance. She is a MUST READ on my list always and has never disappointed. She has the ability to capture my heart and attention time and time again and I recommend this one to true romantics who are looking for a sweet and fun romance that will make you smile and of course for people looking for their next book boyfriend to make them swoon <3
♥SERIES READING ORDER♥
*books can be read as standalones
Book 1 – The Pact
Book 2 – The Offer