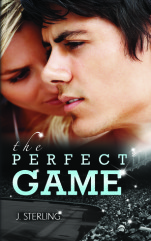 4 STARS!!!
Summary
He's a game she never intended to play.
And she's the game changer he never knew he needed.
The Perfect Game tells the story of college juniors, Cassie Andrews & Jack Carter. When Cassie meets rising baseball hopeful Jack, she is determined to steer clear of him and his typical cocky attitude. But Jack has other things on his mind… like getting Cassie to give him the time of day.
They're both damaged, filled with mistrust and guarded before they find one another (and themselves) in this emotional journey about love and forgiveness. Strap yourselves for a ride that will not only break your heart, but put it back together.
Sometimes life gets ugly before it gets beautiful…
This is a MATURE YOUNG ADULT/NEW ADULT novel
Suitable for ages 17+
Contains strong language, sexual situations and references
Christine's Review
Amazing Story!
I liked Jack from the start!  He is the typical bad boy that you want to hate but you cant help but love….he thinks he's all that and more.  He hooks up with girls (never more than once), doesn't date seriously and never gives out his number. Until he meets Cassie…he is relentless in his pursuit of her and even relies on tactics that made me laugh out loud and smile 🙂  And yes I wanted Cassie to give in and fall for him too!
Jack is serious about Cassie and baseball.  He gets drafted out of college and admits that he always screws up any good things that happen to him and he does…in a BIG way!  It broke my heart….I cried with Cassie…and when she went to see him, I just wanted them to get back together.
But in the end, I think that they needed these hard times to figure out that they were meant to be together.  Love is never easy and I think they learned it the hard way.  In the end, Jack learned that he was nothing without Cassie and he "proved it" to her in the most romantic of ways!
I loved J. Sterling's writing and I loved her character development even more…I look forward to future books and hope to see more of Cassie and Jack!  Oh and of course DEAN!!!!  Thanks for a great read! 
About the Author
I got fired from my last job. It's true. I know you're sitting there thinking "Jenn, how could anyone in their right mind fire someone as amazing and awesome as you???" And i'd love to give you a good reason, but the truth is- being this awesome is clearly very scary to other less awesome people.
So I said screw them and started writing my first book. And you know what I realized? Writing books that mean something to me is a million times better than working for my ass off for someone who doesn't really care about anything other than the bottom line.
My soul feels more satisfied.
My heart, more full.
So thank you for reading, loving and recommending the stories I write.
I think you're awesome- and not only am I not scared of other awesome people, I want them on my team!
LET'S GO TEAM AWESOME!!!! <3 <3
Twitter RealJSterling
Website http://www.j-sterling.com
Facebook www.facebook.com/TheRealJSterling
Goodreads http://www.goodreads.com/jsterling