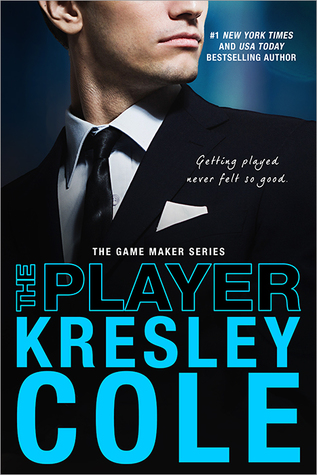 The Player

by Kresley Cole
on April 12, 2016
Buy on Amazon
Goodreads


In this searing stand-alone installment of the erotic Game Maker series, #1 New York Times bestselling author Kresley Cole brings readers a tale of a man wracked with dark desires and the beautiful young woman who could sate him at last.

A madman with a shadowed past . . .
In the City of Sin, Dmitri Sevastyan finds her, Victoria Valentine—sexy, vulnerable, and in need of a protector. Obsession takes root deep inside him. Despite a history tainted with violation and betrayal, he will stop at nothing to possess her.

A grifter with nothing to lose . . .
Descended from a long line of con artists, twenty-four-year-old Victoria, a.k.a Vice, needs the score of a lifetime to keep her loved ones safe. She sets her sights on gorgeous and rich Dmitri Sevastyan. Even as the irresistible Russian toys with her body and mind, he tempts her heart.

Love is the ultimate wildcard.
When Vice and her associates maneuver Dmitri into a hasty Vegas wedding, he refuses to protect himself with a pre-nup, trusting her with all that he has. But can she trust him? As secrets unfold, the newlyweds share days of doubts and nights of the wickedest pleasures. Yet once Vice discovers her husband's past, will she stay to fight for her marriage or cut her losses and run?
Happy Release Day to The Player and Kresley Cole!
I LOVE Kresley Cole books. She has written some of my all time favorite paranormal books with the Immortals After Dark Series and I completely fell in love with The Master, so I had to read about the different brothers in the series. This author can do no wrong in my eyes and she really gave us a page turner in Dmitri Sevastyan's story.
Now let me start off my staying…I LOVED the twists that caught me completely by surprise in this book because it was so unexpected. Ms. Cole again delivers in the heat and sexiness aspect but gave us a story about a broken man on his quest to find his soulmate. And just WOW! The things that this man did to get his woman – just WOW! *sighs*
Dmitri is a loner, he is quiet and elusive until he meets Victoria. With her, he is a totally different guy: dominant, obsessed, intense and emotional.
Victoria is a con artist…the cardinal rule of a con is to never, ever fall for your mark.  But Dmitri makes it so hard not to fall for him with his possessiveness and total passion for his woman.
The way that this all played out: the circumstances behind the con, the actual relationship between Dmitri and Victoria, and omg did I mention THE TWIST played out like a movie. I was captivated, I was intrigued and above all else, I was in love with another Kresley Cole couple.
Readers looking for romance, some mystery, and heat should look no further than this book. She is a truly gifted writer and I look forward to reading more books from her.
Book 1 – The Professional
Book 2 – The Master
Book 3 – The Player