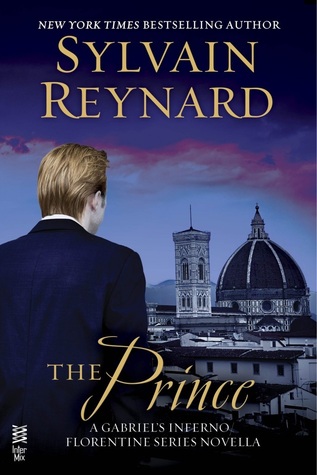 The Prince

by Sylvain Reynard
on January 20, 2015
Pages: 86
Buy on Amazon
Goodreads


The unveiling of a set of priceless illustrations of Dante's Divine Comedy at the Uffizi Gallery exposes the unsuspecting Professor Gabriel Emerson and his beloved wife, Julianne, to a mysterious and dangerous enemy.

Unbeknownst to the Professor, the illustrations he secretly acquired years ago were stolen a century earlier from the ruler of Florence's underworld. Now one of the most dangerous beings in Italy is determined to reclaim his prized artwork and exact revenge on the Emersons, but not before he uncovers something disturbing about Julianne …

Set in the city of Florence, "The Prince" is a prequel novella to "The Raven," which is the first book in the new Florentine Series Trilogy by Sylvain Reynard.

"The Prince" can be read as a standalone but readers of The Gabriel Series may be curious about the connection between The Professor's world and the dark, secret underworld of "The Prince."
I enjoyed this short novella by Sylvain Reynard. This was a strong, tantalizing look into the new series – The Florentine.
Be forewarned before going into this book that it is VERY different than the Gabriel series but we do get to see the Emerson's in The Prince and I LOVED seeing them again – they are, of course, just as hot as ever! 🙂
This prequel introduces us into the mind of the the Prince, who is a vampire who has ruled the city of Florence for hundreds of years.
We again see Gabriel's prized Botticelli illustrations; illustrations that the Prince wants returned to him as they once belonged to him and were stolen centuries prior.
But with war imminent and his life and kingdom in danger, we are left wondering where the Prince will go from here….
Now I have to admit that I just started The Raven last night…and just whoa! I can tell already that though this is so different than Sylvain's previous works that this will be another hit. I am already completely captivated and enthralled and I am only 5 chapters into The Raven.
Anyone who is a Gabriel and Julia fan, who loves mystery with their romance and enjoys the artful and magical way that Sylvain Reynard writes, should definitely take a look at this series. I can't wait to continue reading tonight!!!!! SO EXCITED!!!!
♥SERIES READING ORDER♥
Book .5 – The Prince
Pre-Order Book 1 – The Raven