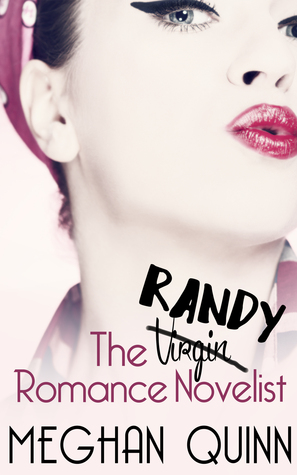 The Randy Romance Novelist

by Meghan Quinn
on April 12, 2016
Buy on Amazon
Goodreads


It finally happened, I lost my virginity. Cue applause and cheers.

For a while life was all rainbows and kittens prancing in a sky full of cotton candy clouds…that was until the demands of the real world set in.

My best friend is getting married and she asked me to be her maid of honor. She's not worried about flowers, or the dress, or the food at the venue. No, she's worried about the bachelorette party, what kind of penis crown she will wear, and the nipple size of the stripper who will be attending.

I'm in way over my head trying to balance life with a boyfriend, planning a penis party, and writing my romance novel. Something is bound to give.

This is my life after my happily ever after…

*** Warning: The Randy Romance Novelist is over the top, ridiculous, and is meant to make you burst out in laughter. Question the sanity of this author, and welcome over-dramatized comedy into your life. Please proceed if you would like to read about absurd tomfoolery type events, be exposed to the book world and other authors, as well as see that even in the midst of a comical combustion of nonsensical craziness (and naïve characters) love will always prevail. ***
We first met Henry and Rosie in The Virgin Romance Novelist. Rosie and Henry after being good friends are now dating and the reader is taken on their journey after they have consummated their now romantic relationship.
I knew I would be in for Meghan's trademark humor in The Randy Romance Novelist and I was not disappointed. Now Meghan does warn readers in her blurb that this book is over the top and boy is it ever!
This is a look into real life – Rosie is now writing her first novel while Henry is dealing with a possible promotion at work. They are still having A TON of sex and Rosie is still hilarious in her naivety and innocence about most things…and let's not even talk about her verbal diarrhea and embarrassing situations.
I laughed A LOT and I fell in love with Henry even more – he is seriously the perfect guy.
If you want to know more about Ben Wa balls, dick dazzling, omg Blue Waffle (DO NOT GOOGLE IT DO NOT DO NOT! I am warning you!!!!), you will need to read this book lol omg roflmao *tears are streaming down my face*
Meghan gives us a look into what happens next between these two and while I kinda had an idea of what would happen, when my suspicions were confirmed, I still had a huge smile on my face. Readers looking for something fun that will make you laugh out loud and cringe at times and make cat lovers second guess their cats (ugh Sir-Licks-A-Lot) should pick this book up – Meghan Quinn never disappoints!
♥READ THE SERIES♥
Book 1 – The Virgin Romance Novelist
Book 2 – The Randy Romance Novelist