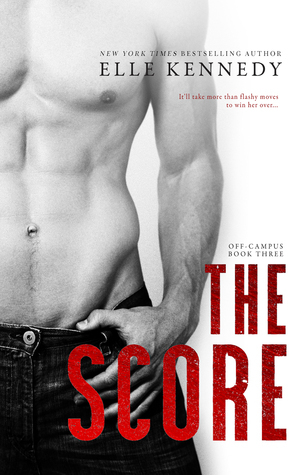 The Score

by Elle Kennedy
on January 11, 2016
Pages: 249
Buy on Amazon
Goodreads


He knows how to score, on and off the ice

Allie Hayes is in crisis mode. With graduation looming, she still doesn't have the first clue about what she's going to do after college. To make matters worse, she's nursing a broken heart thanks to the end of her longtime relationship. Wild rebound sex is definitely not the solution to her problems, but gorgeous hockey star Dean Di-Laurentis is impossible to resist. Just once, though, because even if her future is uncertain, it sure as heck won't include the king of one-night stands.

It'll take more than flashy moves to win her over

Dean always gets what he wants. Girls, grades, girls, recognition, girls…he's a ladies man, all right, and he's yet to meet a woman who's immune to his charms. Until Allie. For one night, the feisty blonde rocked his entire world—and now she wants to be friends? Nope. It's not over until he says it's over. Dean is in full-on pursuit, but when life-rocking changes strike, he starts to wonder if maybe it's time to stop focusing on scoring…and shoot for love.
The Score is my FAVE so far in the series…I couldn't stop smiling and laughed out loud at so many parts..I am just absolutely IN LOVE with Dean!
We met Dean Di-Laurentis in prior books, hockey defenseman, gorgeous, smart, ladies man – he is all these things but in The Score, he ends up being so much more once he meets his match in Allie Hayes.
What starts off as a night of awesome, unforgettable, drunken sex because all Allie needs is a fun rebound after breaking up from a long time relationship turns out to be much more than she ever expected.
I have to say that I completely LOVED their easy going, fun bantering knowing from page 1 that I would be in for a hot ride. Watching Dean realize that he wants more from Allie when he has never wanted anything serious was so heartwarming because of his relentless persistence, his carefree attitude in all things that really helped her to enjoy life without all of the worries.
Wait til you read the bathtub and pink vibrator scene…OMFG freakin hilarious!
There is more to this man than meets the eye and readers will learn this as the book progresses. Dean really captured my heart.
Readers looking for a fun time, hot sex and a couple that will put a never-ending smile on your face should pick up this book.
And omg it ends in something that you will least expect and make you foam at the mouth for the next book – I won't tell you whose book is next but I CAN'T FREAKIN WAIT!!!!!! gah!!!
Read it!!! You will love it!
 ♥READ THE SERIES♥
Book 1 – The Deal
Book 2 – The Mistake
Book 3 – The Score