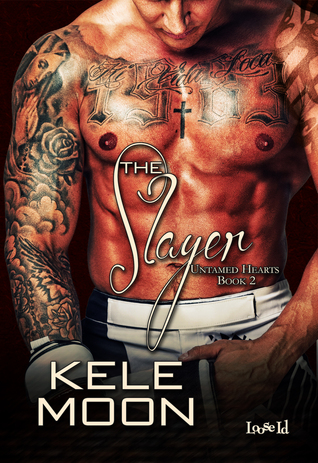 The Slayer

on March 31, 2015
Pages: 495
Buy on Amazon
Goodreads


To Chuito the apartment was a self-imposed prison for a lifetime of sins. To Alaine, the girl next door, it was salvation from her overbearing, religious father.

He was a devil.
She was an angel.

Two people who should've never met, let alone become friends, but it's not until they give into the dangerous passion that's been simmering under the surface for five years that things go to hell.

On the outside, Chuito 'The Slayer' Garcia is on top of the world. He's successful. He's wealthy. He's a champion MMA fighter surrounded by friends who support him, but they don't know what he was before he came to Garnet.

A gangster.
A thief.
An addict.
A murderer.

Now his past is churning up demons he can't ignore. Chuito knows he needs to go back to Miami to end it, but there's something holding him back, a single temptation he can't resist before leaving.

Alaine.

She's the one drug he can't give up…even if it destroys them both.

"To me you're coke. Fine. Smooth. Perfectly white. Very bad for me, but so fucking sexy I don't give a shit. It's worth going down for." – Chuito Garcia
Chuito 'The Slayer' Garcia is an MMA fighter readers met in the series connected to this story; Ms. Moon's amazing Battered Hearts series (if you have not read it, I highly recommend a 1-click).
This book provides the story for this fighter who readers have been around The Cellar.  Slayer was the man you knew as the one who had a cat and mouse game going on with Alaine but you never understood why he did not just embrace this small town girl.  Why he wouldn't allow himself to love her or to be loved.
Alaine, the small town girl, the daughter of the local preacher who chose to go to college and work for Jules rather than follow her dad's order was thoroughly enjoyable to read about.  I adored that she found her voice, that she fought for what she wanted and that in the end she knew what she wanted came with danger.
You see Chuito knows he should be with Alaine; lines like this speak to his turmoil.
"To me you're coke. Fine. Smooth. Perfectly white. Very bad for me, but so fucking sexy I don't give a shit. It's worth going down for."
The reader is taken on a journey between present day and past as we bare witness to the deep friendship Aliane and Chu develop.
As the book progresses, I was impressed with Ms. Moon not brushing over the criminal activity of Chu or of Tino and Nova (I truly don't want to give away plot) but let's just say the author allows the criminal element to continue to run through this book in a way that felt true to these men with dark pasts; pasts that does just go away because you want them to.
Alaine deciding what she wants; well again I don't want her choice to be given away because there was one point during this section of the book, my heart was in my throat and I thought I might be sick.  So I truly want you to read without knowing what happens. I will say it was flawlessly executed and reader truly feels the pain of all involved, white knuckling their kindle.
Oh PS amidst all the tension, drama and OMG moments, there was a few ear to ear grin moments; one with Nova that I freaking loved! (sorry Chu you may have hated what happened but it was too funny to read your reaction to it – nope not telling read the book!).
This book has a dark criminal element that is true to the characters it revolves around.
The epilogue of this book was epic… heart pounding, masterfully constructed to keep the reader now wanting Tino's story even more.
Please Ms. Moon, write fast because I need Tino!
P.S. and I know this one might sound odd but you don't need to read book 1 of this series to LOVE this book but I would recommend reading The Battered Heart series;  Tino and Nova brother of Romeo from book 2 in that series Star Crossed http://amzn.to/1OREarZ and Wyatt the star of Crossing the Line http://amzn.to/1EsJuPv play major roles in this book and the plot overlaps with events.
Though Ms. Moon explains everything you need to know about those events in Slayer reading Star Crossed and Crossing the Line first I think makes this book even more enjoyable.
♥UNTAMED HEARTS SERIES READING ORDER♥
Book 1 – The Viper
Book 2 – The Slayer