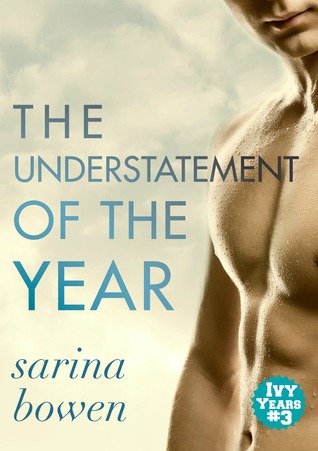 The Understatement of the Year

by Sarina Bowen
on October 15, 2014
Pages: 300
Buy on Amazon
Goodreads


What happened in high school stayed in high school. Until now.

Five years ago, Michael Graham betrayed the only person who ever really knew him. Since then, he's made an art of hiding his sexuality from everyone. Including himself.

So it's a shock when his past strolls right into the Harkness College locker room, sporting a bag of hockey gear and the same slow smile that had always rendered Graham defenseless. For Graham, there is only one possible reaction: total, debilitating panic. With one loose word, the team's new left wing could destroy Graham's life as he knows it.

John Rikker is stuck being the new guy. Again. And it's worse than usual, because the media has latched onto the story of the only "out" player in Division One hockey. As the satellite trucks line the sidewalk outside the rink, his new teammates are not amused.

And one player in particular looks sick every time he enters the room.

Rikker didn't exactly expect a warm welcome from Graham. But the guy won't even meet his eyes. From the looks of it, his former… best friend / boyfriend / whatever isn't doing so well. He drinks too much and can't focus during practice.

Either the two loneliest guys on the team will self destruct from all the new pressures in their lives, or they can navigate the pain to find a way back to one another. To say that it won't be easy is the Understatement of the Year.

THIS BOOK IS A STANDALONE. NO CLIFFHANGERS. NO PRIOR EXPERIENCE NECESSARY.

Warning: unlike the other books in this series, this heartbreaking love story is about two guys. Contains sexual situations, dance music, snarky t-shirts and a poker-playing grandmother.
This book can be read as a stand alone – it is how I read it and I had no issues at all, honestly I don't even know who the first two books in the series are about but I can say I thoroughly enjoy this one; Michael Graham and John Rikker's story was touching, compelling and will likely stick with me for sometime to come.
The blurb for this book grabbed my attention and pushed the book to the top of my reading list (and I was glad it did)!
John Rikker is a young gay man in college who was forced out of the college and  a set of circumstances beyond his control put him in the path of Micheal Graham. "Graham" is  a young man so far in the closest he has forgotten what it is like to truly feel attracted to someone when not drunk.
The circumstances that put John and Micheal in the same college locker room are heartbreaking as sadly this is something that could happen even in this day in age. The reader quickly learns these two men have a past; a past laced with emotion, hurt and questions. (A past I will not tell you about as I want the reader to experience it).
The tension between John and Micheal is as tangible as in the attraction they feel. Watching these two push and pull was so enjoyable.
I loved the use of Skippy and Bella in their story; both a secondary characters used to show the power of friendships.  Bella was also used to show how lying can harm so many and as Michael's Mom says towards the end "how is hiding working out for you."
As for Skippy…this adorable man, well the use of his openness and care for Rikker was a wonderful tool for allowing Michael to see what he was missing. The author using friendship to show Graham how things could be.
The events that unfold and start to move these two toward forever pulled at my heart and was laced with so much emotion.
In the end, how John and Micheal come together felt so true to these two characters.  And the happy was not what I expected but felt so perfect for these two
♥READ THE SERIES♥
Book 1 – The Year We Fell Down
Book 2 – The Year We Hid Away
Book 3 – The Understatement of the Year