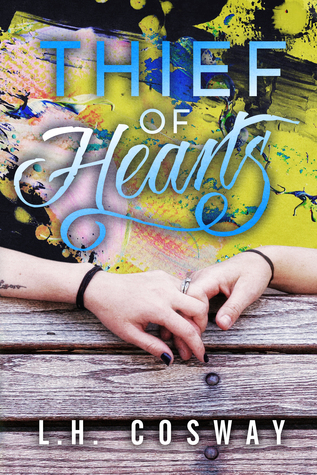 Thief of Hearts

by L.H. Cosway
on October 4, 2016
Buy on Amazon
Goodreads


Seduce the teacher.

Meet the cousin.

Make a deal.
Steal the painting.

Andrea Anderson has no clue of the thoughts churning around in the dark and dangerous ex-con's head as he enters her classroom. In fact, she's momentarily lost for words. Not in her entire teaching career has she had a student who looked quite like Stu Cross.

A widow at just twenty-eight, love is something Andie hasn't considered a part of her life for a very long time. However, when lingering touches turn to whispered words and hot, searching stares, she begins to wonder if maybe she should take a leap of faith.

But Stu is in her class for a reason, and it has nothing to do with love. He's there to burrow his way into her life and repay a debt, otherwise his family will suffer. Andie is the first person to show him true kindness since he left prison, and though he doesn't want to mislead her, he doesn't have another choice.

Before long, Stu can't tell whether or not he's acting anymore, and his feelings for Andie could throw all of his carefully crafted plans into complete and utter disarray.
L.H Cosway is one of my go to authors. She has this amazing ability to write different, out of the box stories and characters that are just so well written that you simply devour her books. Thief of Hearts is a great addition to this series. I didn't think I could ever like ex-con artist Stu, who we have met in previous books. He always seemed devious and dirty somehow with his cocky attitude and the snarkiness that would come out of his mouth.
Well L.H does an amazing job because I completely fell in love with him and Stu is certainly more than meets the eye! I love the slow build romance in this book. Stu is recently out of prison and taking classes and his teacher is our heroine Andrea Anderson. Andrea is a widow which Stu realizes and I loved seeing him push her in a way that was sexy and fun yet not rushing her. There is just something about that forbidden aspect of a student/teacher romance that gets me every time. Stu puts a smile on our heroine's face and makes her realize that though she is a young widow, her life is still worth living and she can move forward without forgetting about her past.
I absolutely LOVED the twist in this book and I can't reveal what that is because this aspect truly made the book exciting and intriguing. You have to just trust me and read the book!
While this was not my favorite book in the series, L.H. Conway's talent can't be beat. Readers will fall in love with this recovering thief and a girl learning to love again. L.H. Cosway is a masterful storyteller and one of my favorite authors. I can't wait to see what she has in store for us next!
♥ READ THE SERIES ♥
*Books can be read as standalones*