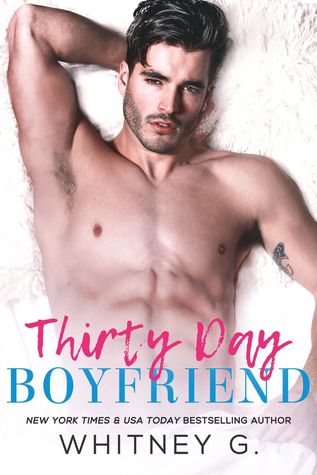 Thirty Day Boyfriend

on November 2, 2017
Buy on Amazon, Buy on B&N, Buy on iTunes, Buy on Kobo
Goodreads


I should've never agreed to this arrangement...

Thirty days ago, my boss--Mr. Wolf of Wall Street, came to me with an offer I couldn't refuse: Sign my name on the dotted line and pretend to be his fiancée for one month. If I agreed, he would let me out of my employment contract with a "very generous" severance package.

The rules were pretty simple: No intimate kissing, no actual sex. Just pretend to love each other for the press, even though I've secretly wanted to knock that sexy smirk off his face since the first day we met.

I definitely didn't need to think twice about this. I signed my name and started counting down the seconds to when I would never have to deal with his special brand of ass-holery again.

I only made it to one minute...

We argued the entire four-hour flight to his hometown, failed to make a convincing impression with the welcoming press, and right when I was about to knock that arrogant look off his face in real life? He purposely dropped his bath towel in front of me, distracting me with his nine-inch cock to "show me who the bigger person was" in our relationship. Then he gave me his trademark smirk once again and asked if I wanted to consummate our marriage.

Tragically, this is only day one.
We still have 29 more days to go...
I love Whitney G. books—she is really such a great writer and is able to pack so much punch into her short novellas.
Who doesn't love a boss/employee sexual tension, omg they are so hot story?! Thirty Day Boyfriend was that in spades!
The main difference… Nicholas Wolf needing a fake fiancé to win the biggest business deal of his career. And while Emily Johnson his assistant hates her job, and is secretly interviewing for a new job—there is no better person for this role than her—especially when he offers her adequate compensation for her services AND the added bonus of being able to quit working for him when it's all over in thirty days.
And while I LOVE their bantering and most especially Emily's sassiness—I just wish there was more story—more character development, more back story, more heat and sexy times—just plain MORE.
I love Whitney G's writing (totally and completely) but I would love even more if she gave us a full, complete story rather than these short novellas that just tease us because just when the story gets good—it's done and over.
I will continue to read her stories because I am a complete sucker for her writing and her characters… I just wish she would give us a complete full novel length story like I know she can. <3
I can't wait for more!