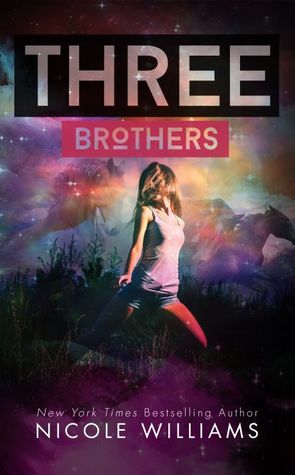 Three Brothers

by Nicole Williams
on January 20, 2015
Buy on Amazon
Goodreads


I grew up with three brothers. They weren't tied to me by blood, but our connection went beyond genetics or bearing the same last name. Our connection was forged the summer I turned thirteen, the summer my mom ended her life and left me in the custody of John Armstrong, a man I'd never met. Packing all I owned in a couple of boxes, I left the familiarity of the big city and headed west to Red Mountain Ranch, set in a lonely valley outside of Jackson Hole.

Nothing was as it seemed at Red Mountain—it didn't take long for me to figure that out. John was kind to me but distant, as if he was afraid to let anyone get too close. His three teenage sons had their own devices for keeping love as far away as they could. The eldest distracted himself with cheap relationships that had a shelf-life of one night. The middle son threw himself into the rigor of running a ranch, and the third wielded cruelty and mind-games in his quest to keep people from getting close.

Time has gone by, and I've spent those years trying to forget the brother I'd fallen for—the biggest mistake of my life.

Finally, I've moved on. Finally, I'm back. But what I didn't realize was that running away from the wrong brother meant I'd also run away from the right one. The one who'd been there for me all along, waiting in his brother's shadow for the day I either would or could move on.

But a decade is a long time to wait. Has the brother I should have chosen all of those years ago moved on too? Am I about to discover that my biggest mistake wasn't falling in love with the wrong brother, but failing to return the love of the right one sooner?

Does unrequited love have an expiration date?

I'm about to find out.

Author's Note: This book is a "sweet" romance that isn't overly sexy. Fans of Lost & Found will be interested in Three Brothers.
I love Nicole Williams writing. She knows how to set the stage and paint a picture of the world that she is creating and I can ALWAYS visually see it in my mind as I devour her books.
I truly enjoyed this book. Ms. Williams gave us something completely different than what we normally see from her and I loved seeing her range as a writer. Three Brothers is an emotional journey that is not only thought provoking but filled with love, forgiveness, and second chances. This is a story that touched my heart not only for the many messages incorporated within the story itself but because of the overall theme of living life and loving to the fullest and the importance of the family bond.
Three Brothers follows the story of Scout, whose mom tragically died when she was 13 thus her moving in with John Armstrong and his three sons – Chase, Chance and Con. Each son being so different from the other; each having a very different relationship with her ranging from the good to the bad. Eventually Scout's heart does get broken and she runs from their home to grow up in the city on her own, only having to return 7 years later when the man who was the only real father figure to her is dying.
Coming face to face with each brother again and experiencing such pain and loss, bitterness and betrayal and even the heartwarming welcome of the one who was her best friend and there for her all along, throws me for a loop at the range of emotions that each made me feel and experience. What made these relationships so unique was how true to reality they were; the depth of family relationships, the relationships that are not always perfect, the way that illness and loss can bring a family back together again and how forgiveness can be found.
What worked for me….
the brother who was the constant, the one who was always there – Nicole Williams knows how to write men that you fall in love with and Chance stole my heart
the emotions, the anxiety of the characters, the pain that was so real – EVERYTHING was so heartfelt and true to life..it was like being a character within the story, experiencing everything with them…oh the feels!
the battle that each Armstrong man had with love, their fear of loving because of a family curse was so profound and honest
the suspense at the end – wow! I never expected it! and it was a shocker!
This was a beautiful story of one's girl journey back home, back to her heart, back to her family. Complicated, intense and emotional – this is a different read for Nicole Williams fans but I encourage you to give it a try if you are looking for that next read that will leave an impression on your heart and soul.