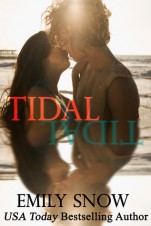 5 STARS!!!
Summary
*New Adult Romance*
Now that Willow Avery is out of rehab, she's got one chance left to prove herself before she's officially on every producer's shit list. At least, that's what her parents and agent are claiming. She doesn't really give a damn if she never makes another movie or not—she just wants to get on with her life, get back to her friends, and find her next escape. But Willow is broke. And whether she likes it or not, acting is the only job she knows how to do.
When she accepts the lead in a beach drama, Willow finds herself in Hawaii. And in Hawaii, she finds Cooper, the gorgeous surfer hired to train her for her new role. With the bluest eyes she's ever seen and the sexiest Australian accent she's ever heard, Cooper's different from the men she's used to. He doesn't want to use her. And he refuses to let her fail. But when an old friend re-enters Willow's life—a friend whose toxicity she's been drawn to time and time before and whose presence brings about the painful memories she's tried so hard to suppress—Willow will have to choose between the girl she was and the person she's becoming. The lifestyle that helps her forget the pain and the guy she's falling hard for.
Christine's Review
"All good stories begin with the guy"….
And this starts the beginning of a wonderful story written by Emily Snow – I am SO HONORED to have  received an ARC copy of Tidal from the author!  This was my first experience reading this author and it will definitely not be my last!  Cooper Taylor has officially landed on my list of Top 15 Book Boyfriends (and replaced Christian Grey at #8!!)
Willow Avery is 20 years old and has just left rehab to rejoin society.  She is a young Hollywood actress and has led a life in the spotlight and is plagued by insecurities, trust issues, as well as drug and alcohol problems.  I connected with Willow from the beginning.  As a mother, it was hard for me to see her come out of rehab with no family or friends support – only her agent was there.  She feels alone and weak – does anyone truly care about her or is it only the fame and money?  Right away, talks begin about her starring in another film and the pressures of stardom surround her once more.  She meets 22 year old, hot and gorgeous Cooper Taylor and the reader can feel the chemistry at their first handshake.  The difference with Cooper from all the other guys Willow has ever met is that he makes her feel unsettled.  Willow's initial reaction is to not want to take on any work now and to get established again in the real world but with the thoughts of having no money and becoming a washed out actress at such a young age, what other choice does she have to make but to accept the part?
Cooper doesn't hide the fact that he doesn't like Hollywood actors and actresses and that nothing ever happens between himself and a client.  But he also admits that it is actually SHE that unnerves him and to the readers he is admitting that he cares for her and that there is something there between them.  We see how hard it is for them to resist each other and when we are there for their first kiss – WOW!
"I won't let anything happen to you.  Not ever when you are with me"….sighhhhhhhhhhh
Cooper sees through Willow's multiple layers and knows her better than she thinks he does.  He sees past her mistakes and wants to help "fix" her.  She does have one secret that no one knows about that she is desperately trying to hide from everyone.  Conversely, Cooper also has his secrets that he has not shared with Willow.
Throughout the book, Willow is cautious because of the hurt she went through.  I felt that she was denying herself the one thing that she truly deserved – happiness.  But as time moves forward and they build a relationship on more than just friendship, both Cooper and Willow realize that they do want each other and Willow realizes that Cooper is really saving her and bringing her back to life.
"I love you Willow, but I can live without you.  I just refuse to." 
The epilogue was THE BEST!  You have to read this book to find out what happens with this couple…you will fall in love with them as I have.
This was truly an amazing and relatable story of a young girl learning to be strong, to knock down the walls she has built to protect herself, to overcome her past struggles and to find love again.  It was so well written and emotional at times that I felt tears in my eyes.  This book touched a part of me that I haven't felt in a while and it's something that I will not easily forget.  I recommend this book to anyone looking to read about love and wanting something to touch a piece of your heart.  It certainly touched mine and you won't be disappointed!
On a side note, Ms. Snow created a wonderful cast of secondary characters.  I absolutely loved Paige and Eric and Tom.  They are the family that Willow has always craved for and I loved how they cared for her and wanted to help her overcome her issues.
About the Author
A native of Southwest Virginia, 26-year-old Emily Snow is the author of the forthcoming DEVOURED series (2012, 2013) and TIDAL (2012).
Twitter EmilySnowBks
Website http://emilysnowbooks.blogspot.com/