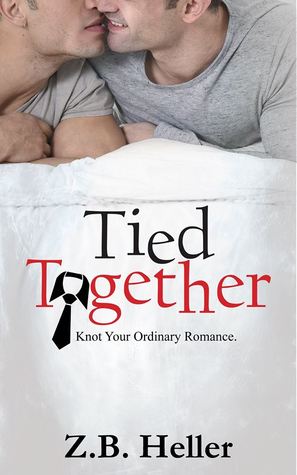 Tied Together

by Z.B. Heller
on August 25, 2015
Buy on Amazon
Goodreads


Ryan Keller had it all when he came out in high school; accepting parents, friends and his own credit line for J. Crew. His cocky attitude and good looks got him what he wanted, including samples off the man meat buffet. Then he found his favorite dessert, Brandon. But Brandon wasn't sending out a rainbow vibe so Ryan was sent to the land that crushes dread, the friend zone.

Brandon Ford was buried so deep down in the closet that clothes from the seventies had a better chance of coming out. His anxieties of acting on his desires could keep a therapist entertained for hours. Even though he did his best to build his emotions out of bricks, it was no use against Ryan's charms.
Follow Ryan and Brandon's relationship from high school, to college and beyond to find out if they will be Tied Together.

Warning: No Anaconda Turtles have been harmed in the making of this book.
This is a such a great book! The author evokes such a wide range of emotions from the reader including humor, heartbreak, empathy and pure love.
It's a powerful love story told over the course of 15 years, yes you read that correctly, this book's timeline is over a decade and becomes almost a third chance romance.
For me, the key to second chance romance is getting the reader to believe this time it's forever and making this a third chance romance, Ms. Heller made this task even harder coupled that with the events of the break up and it truly is an became uphill battle to forever…An uphill battle the author hiked and conquered!!!
Tied Together is the story of Ryan Keller, a young man who when the book opens appears to have it all.
From the moment I read this, I knew I was in for a treat as so few authors can do humor well:
This was not a penis but an anaconda. His dick was a weapon of mass destruction and could have had its own area code. To make matters more frightening, Peter was uncut. I was dealing with a hybrid: an anaconda turtle. I eyed the monstrosity with my mouth agape.
Ryan's first meeting with this book's second leading man …a shy Brandon Ford was so heart warming.
Brandon and Ryan develop an easy friendship, though a friendship that for a while is surface deep as Brandon is living with a secret.  The contrast between Ryan and Brandon's home lives truly speaks to the reader and becomes a great undertone for the assumptions people make about each other.
Brandon struggles so much with coming to terms with who he is, and when he finally admits he wants Ryan my heart swelled.
"This is not a mistake, Ryan. I've wanted this for a long time. I just didn't know how or when. I don't want to be scared anymore. You make me want to be brave."
The "what" that tears these two apart made me want to throw my kindle across the room and the moment after that made me want to throttle Ryan!
But when these men re-connect, you get humor and character growth, true growth for both men:
He was sexting me! That little shit was working the power of text to turn me on. I glanced down at my crotch and saw how Brandon's words affected me. Two could play at that game. He was about to find out who the master was.
"I like to stick things in a man, a real man, who can take what I give him."
I smirked when I hit send.
"Ryan, I don't think you have the balls to give me what I need. I like it hot, dirty, and deep. If memory serves, you like to bring those twinks home, and baby, I am no twink."
I almost dropped my phone. I just got my ass handed to me on a platter courtesy of Brandon.
Though I wanted to punch Ryan in the throat and thought I might never forgive him especially given what goes down in the dual POV chapter, Ms. Heller did a masterful job at bringing these two back together in a truly memorable and omg moment, one that has Brandon having almost everything he ever dreamt of.
Speaking of Brandon his journey to happy was so powerful, his evolution to a man able to grab what he wants out of life without caring about the judgement others, made me want to hug him.
In the end, this line proved true in spades:
"So that's it, then. We're tied together."
The epilogue of this story was the lynch pin for me..the piece that took this story up to the top of that hill to a forever happy!
Ms. Heller amazed me with her ability to write funny, and emotional. She is truly a gifted writer and I look forward to reading more from her.