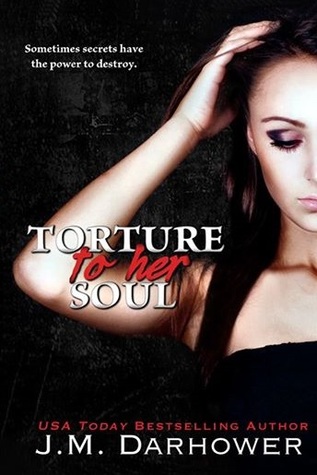 Torture to Her Soul

by J.M. Darhower
on September 29, 2014
Pages: 394
Goodreads


Don't say it unless you mean it…

It's a simple concept, one I've said time and again, but something people don't seem to comprehend. You should choose every syllable carefully, because you never know when somebody will hold you to your word.

Somebody like me.

I'm not a good man. I'm not. I know. I have enough darkness inside of me to rid the world of every stitch of light. But there's one I could never harm, one light I couldn't bring myself to snuff out.

Karissa.

She thinks I'm a monster, and maybe I am. I taunt her with my touch, get a thrill out of torturing her soul. But I'm not the only one. The world is full of monsters, and I'm not the most dangerous one out there.

Not even close…

God help me, I love her.

I do.

And God help anyone who tries to take her from me.
So I am on a Darhower high right now after reading Extinguish (a paranormal book about angels!! More about that in a few days!!) and then reading the conclusion to Naz and Karissa's story. Darhower is a master storyteller. No matter what she writes, you know you are getting a quality story with amazingly well developed characters and a story line that hasn't been done before.
I absolutely loved that this story was done in Naz's POV as I was dying to get inside his head to learn more about him.
Now I will say that the rift between Naz and Karissa though understandable after reading Monster in His Eyes really pulled at my heart and saddened me. This couple who had so much potential to defy the odds against them now filled with so much distrust, hurt, betrayal – just so completely broken that I didn't know if there was any possibilities for their connection to be fixed.
Can a shot at love the second time around erase the hurt and betrayal? Can trust be formed after such complete devastation?
Well I can't tell you the answer to that as you have to read this book yourself to find out the outcome.
I will leave you with this….I was excited and intrigued and scared to the point that I was completely nervous and my belly hurt because I didn't know who to trust and I didn't know who would make it out alive. Seriously this is a mafia story…anything can happen including death for all!
What I came out with after reading this story is that people need to realize what counts in their lives, what's important and sometimes you have to sacrifice what you believe in for not only love but for the person who means the most to you. Because without love, you have nothing. The second thing that I learned from this story is the power of free will and choice and that sometimes you have no control over what the other is feeling or what they will do or decide in the end but that if it's meant to be, it will happen.
Sexy, exciting, dangerous and above all well written…I will read everything written by J.M. Darhower!
♥READ THE SERIES♥
Book 1 – Monster in His Eyes
Book 2 – Torture to Her Soul