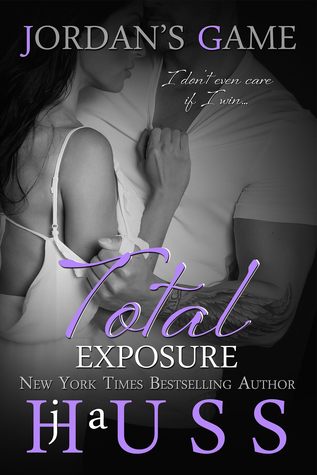 Total Exposure

by J.A. Huss
on January 16, 2018
Buy on Amazon, Buy on B&N, Buy on iTunes, Buy on Kobo
Goodreads


The spotlight is my enemy.
The cameras are my cure.

Jordan Wells says he can help me. Heal my soul and fix my fear so I can perform on stage again to a sold-out crowd. His game gives me a reason to go on, but his price is total exposure.

The stranger watching my every move is anonymous.
Or is he?
The daily notes he leaves seem familiar. His unreasonable requests bring out all my hidden fears. And then one night in the dark… his touch is everything I ever wanted.

It was supposed to be a guaranteed win.
A way to move past the performance anxiety.
One less thing to worry about in a sea of dreadful things to worry about.

But what we do in the secret anonymity of night might be more frightening than anything else.

Because I like it. And I want more of it. And I'm willing to give up everything just so I can play this game forever…
Total Exposure is book 1 in a spin-off series called Jordan's Game.
I want to pause and say this series is spin-off of a series I adored—the Taking Turns series—so if you haven't read this series stop read this review and go 1-click Taking Turns NOW http://amzn.to/2DjfGXM. Taking Turns was a top pick for me and one I own a cherished signed paperback of!
Now comes the tough part… to relay my love of this slow burning twisty book without giving away any spoilers.
I don't think this will be spoiler but I don't know how to write a review without saying I adored Ixion the male lead in this book… Yes folks the lead in this one is not Jordan, though it is his game.. yes a true to fashion JA Huss almost mindf*ck.
Ixion's journey in this book, the slow reveal of his past, how it weaves into this present, a truly eloquent way in which the reader and the female lead learn about him was all so well done. It kept me glued to my kindle and had my mind truly engaged as I experienced the emotions and eventual heat in this one!
The two leads in this book come to each other wounded, both with deep emotional scars affecting how they live as adults. Being a part of them opening up to each other, experiencing the pain of the past giving way to caring for each other was so engaging.
Oh, I want to mention I loved the weaving of Chella from the prior series, it really added to the read and well I hope she helps Jordan as things progress and we learn more in the upcoming books about this man that still is for the most part a mystery.
I am so excited for the rest of the book in the Jordan's Game series! I already have book 2 on my must read list, which this year is very short, sadly.
P.S. I would have rated this book higher but right at the end there was scene… well it just didn't sit well with me and I am sure affected the writing on this review. But in the end I loved the charters, the happy they found and the big smile on my face when I closed my kindle.


I swallow hard as my fingertips find the edge of lace on my black panties and ease them over my hips.
The spot between my legs—the one that's been neglected for so long—throbs. So much faster than my heart. A deep-heated longing that wants what it wants so badly, I've gone far, far past the point of no return.
I bend down, step out of my panties, never taking my gaze off the blank, black, stare of the camera lens, and let him get a good, long look.
"Like this?" I ask. My body so ready for more, I feel a climax coming even though no one's touching me. Even though I'm not even touching myself.
It's the watching that turns me on.
My own personal voyeur.
His own personal entertainment.
We're both pretty sick.