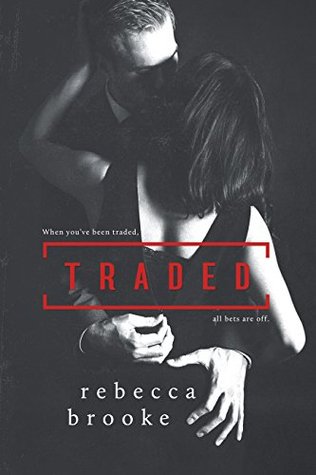 Traded

by Rebecca Brooke
on November 7, 2015
Buy on Amazon
Goodreads


I'm a pawn, a piece of chattel, a toy--used and forgotten.

When you're done with me, you can walk away with no regrets. That's how my husband sees me. I try to be the best wife possible for him. After all, he took me on when no one else would. Now--he's in debt and owes more money to the loan shark than we can possibly repay.

But, don't worry, he's come up with a solution, it's just not one I was expecting.

...I've been TRADED.

**Content Warning: this book contains adult language, Sexual situations and situations of emotional abuse. Please use caution when reading. This book is meant for 18+ ONLY**
With a blurb that ends like this:
"But, don't worry, he's come up with a solution, it's just not one I was expecting.
…I've been TRADED."
I was immediately curious! I have read Ms. Brooke before and this was one I knew I wanted to dive into. This book did not disappoint, I thoroughly enjoyed Traded and I fell in love with Ashton.
Yes, I feel in love with a loan shark… but I digress. 🙂
First the details…Elena is a woman who is verbally abused by her fill in the blank with a not nice word husband Dominic.
I will pause and say if books with abuse are a trigger for you, be leary as the author does an outstanding job with this aspect of the book. My heart broke for Elena as it was clear Dominic broke her spirit.
Dominic is a gambler and since to him Elena is a possession, he attempts to "trade" her for his debt.
Enter Ashton…I adored him from almost the moment I met him. The "why" he accepts Dominic's proposal was so well done and it was woven deep into the story as his family becomes a part of the story.
I don't want to tell you his "why" or the "how" or even what transpires.. but there is a happy and this book is about more than just love heals all. It is a story about finding yourself, discovering the beauty you have inside.