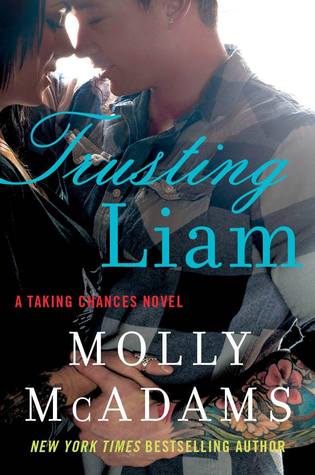 Trusting Liam

by Molly McAdams
on June 9, 2015
Pages: 272
Buy on Amazon
Goodreads


From the New York Times bestselling author of Taking Chances, From Ashes, and Stealing Harper, comes the new unforgettable adult romance Molly McAdams' fans have been waiting for—the sizzling story of a young woman who must place her trust in the one man who can break through her defenses.

A night they will always remember…a connection neither can deny…a secret that could destroy it all…

When Kennedy Ryan moves to California, she never expects to come face-to-face with Liam Taylor—the intriguing man who has haunted her thoughts for a year. A man who led her to breaking every one of her rules for a single night of passion that ended up meaning more than it was ever supposed to. Accustomed to disastrous experiences with men, Kennedy shields herself before he can break down more of the carefully built control she's clung to for the last four years. But every time she sees Liam, she feels her resolve weakening.

Liam Taylor has been asked to help socialize his boss's nieces. But what he thinks sounds more like a babysitting job ends up leading him to the only girl who ever slipped away before morning—a girl he thought he'd never find again. And now that she's within reach, Liam's determined to never let her go.

But when a secret from her past tests their relationship, will they be able to cling to the trust Liam has worked so hard to build?
Though this book could be read stand alone, it is advised by the author that you read it after Taking Chances and Stealing Harper (for Liam's side) and Forgiving Lies and Deceiving Lies (for Kennedy's side) before you read this book as in this story Ms. McAdams brings together the children from two of her series.
After reading the book, I think those who loved or want to read Taking Chances will love this book without reading the other three.
Ok now if you have NOT read Taking Chances this review is about to be a huge spoiler….. I want to pause here as say Taking Chances is one of my all time favorite books, if you have not read it, I highly recommend it.
Liam Taylor is the son of Harper and though biologically fathered by Chase Greyson, his "dad" is Brendon Taylor.  Brendon and Chase were best friends who fought over Harper until Chase's untimely death. Yes, love triangle to the nth degree.
Ok back to his story…when Kennedy Ryan is forced to relocate to California, a set of adorable circumstances put her in the path of a man she thought she would never see again, a man the prologue paints as a one-night stand from Vegas – Liam Taylor.
Watching Kennedy and Liam together was engaging; it is clear to the reader that they are drawn to each other and you can feel the connection through your kindle.
As Liam reveals the how he came to be in this world to Kennedy, there is a flashback scene to Liam at 19 that was so powerful, it was real and gritty and raw and truly spoke to all this interconnected family has gone through.
When the why Kennedy doesn't trust appears at her front door, my heart broke for Liam.  The how this worked out offered a very interesting twist. I won't tell you how this resolves, I will say I loved the use of Brendon and after reading this book, I love him even more!
The epilogue to this book is truly the tribute I think many Chase fans have always wanted. It was the perfect end; it tied elements of this book to a forever happy while honoring the past in epic fashion.
Thank you Ms. McAdams for this wonderful look at the Taylor family!
♥BUY THE BOOKS♥
Book 1 – Taking Chances
Book 1.5 – Stealing Harper
Book 2 – Trusting Liam