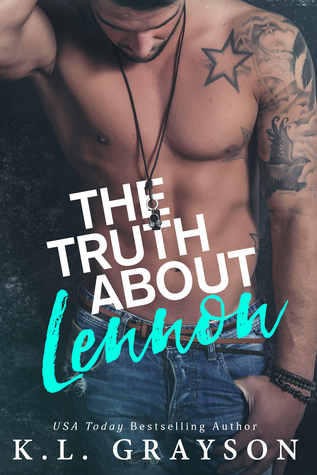 The Truth About Lennon

by K.L. Grayson
on February 21, 2017
Pages: 281
Buy on Amazon, Buy on B&N, Buy on iTunes, Buy on Kobo
Goodreads


Lennon Barrick-St. James is making headlines as New York City's hottest new socialite. Only she isn't new at all. One well-intentioned night gone horribly wrong has landed the daughter of vice presidential candidate Christopher St. James on the front page of every newspaper and magazine in the country.

Forced by her father to stay out of the limelight, Lennon flees to the quiet town of Heaven, Texas, where she vows to lie low and avoid men. Well, except for the sexy biker she just ran off the road—she definitely won't be avoiding him.

Noah Cunningham already has one girl in his life, and he sure as hell doesn't need another. Especially the beautiful and sinfully sweet angel that just descended upon the quiet little town he calls home.

The only problem is that the more time he spends with Lennon, the more he wants to be with her. And that's just not going to work for Noah. He's already been burned once, and he's not so sure he's ready to go down that road again.

Noah has spent the last five years putting his life back together after secrets and lies ripped it apart. So what will happen when he learns the truth about Lennon?
The Truth About Lennon is a story about two characters with pasts; pasts that could affect their future.  I did enjoy how each character's past was woven into the story and how the similarities almost cost them everything as it highlights how easy it is to judge the present with the filters of your past.
This book is a heartwarming story about a single Dad who finds a new love, one he would have never imagined. I did ask the author before revealing in this post that this is a single dad book.
Noah was a wonderful character, his love for his daughter Nova was so clear that it bleeds off the pages. Speaking of Nova, this little girl will steal your heart.  She is well written and masterfully woven into the story.
Lennon, well your heart will break a bit for this woman who just wants to be happy; a happy she decides for herself not one predetermined for her.
Oh, I should add the first time Lennon and Noah "meet" there was a connection, though the connecting isn't so fun for Noah, nope not telling read the book.  I love how these first few chapters played out and I saw the spark that Lennon did too.
In the end, the happy these two find had me smiling… oh and yes  I loved the epilogue!
Read an exclusive excerpt we have from the book HERE