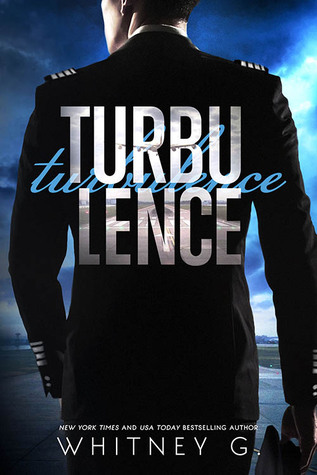 Turbulence

on August 30, 2016
Buy on Amazon, Buy on B&N, Buy on Kobo
Goodreads


Fuck me recklessly
Kiss me harder.
Take me again and again…

He and I met under a cloud of clichés:
Boy meets girl. Boy charms girl. Boy fucks girl.
Our story was supposed to end right after the orgasms, right after we went our separate ways.

But then we saw each other again…
And neither of us could walk away.

Our rules were simple.
Our passion was scandalous.
Our hearts were supposed to be safe…

But when you find something so all-consuming—something so intoxicating and inescapable, you'll risk everything you've ever had, even if you're destined to crash and burn.

This is us.
This is our messed up love.
This is turbulence.
With a blurb like that, how can you NOT want to read Turbulence by Whitney G. After being away from the book world for a bit, Whitney G. is back and ready to take on the world by storm and boy, am I glad she is back. No one writes hot erotic, compelling stories like this author – NO ONE!
I haven't read many books about a pilot and the nuances that go on behind the scenes in the airline industry but this book..WOW…this book was highly addictive and made me see this industry in a whole new light. I am not ashamed to admit that I want my own pilot and to join the mile high club myself *fans self* 😉
So what's it about?
Well Jake C. Weston is a rich, cocky airline pilot that has one night stands in every city that he flies into and doesn't believe in relationships. Jake has a painful past, one that eats away at him causing him to have no emotion about anyone or anything keeping him closed off to everything that is happening in his life.
Gillian Taylor comes from a family with high expectations and over achieving siblings. Yes, she is smart in her own right but has decided instead to be a housekeeper and flight attendant. Gillian also has a painful past, one that the reader will learn as you read this book. Gillian does have a boyfriend, one that is more into wealth and status and not really seeing or appreciating the special woman he has in front of him.
I just loved how Jake and Gillian met LOL – how this seemingly one night stand becomes so much more given the circumstances and how it all transpires (no I can't tell you how because you HAVE TO read this book to find out – OMG!)
Told in dual POVs, I absolutely LOVED being in both of their heads. For one, seeing Jake's reaction to Gillian – how he doesn't want to think about her yet can't help himself. How he comes up with this arrangement to see her again showed me how this woman was so different for him. She challenges him, she goes against everything he says, she makes him think of things that he never wanted. Yes, Jake is a tough nut to crack, but seeing his wall start to slowly come down to allow someone in was so fun to watch.
And let's talk about the heat factor – holy hell *fans self again!* The sex that happened everywhere, anywhere without regard to getting caught was the hottest sex EVER! This just added another exciting element to the story because at the airline company they work for there is a strict no fraternization policy and they broke this rule over and over again and I couldn't be more grateful lol
As readers take this journey with Jake and Gillian, you will see that both characters are flawed but it was the hope for the future and the possible what if's that kept me glued to my kindle – I DEVOURED this book.
This was a quick, fun, entertaining and sometimes stressful read – it was SO hard for me to put it down. There were some things that didn't work for me and in my opinion this isn't my fave of Whitney G's books but it had different out of the box characters that I fell in love with and a story that won my book lovers heart. Whitney is BACK and I look forward to many more books from her – she is a top fave author of mine and I am excited for her #YearOfSecrets!