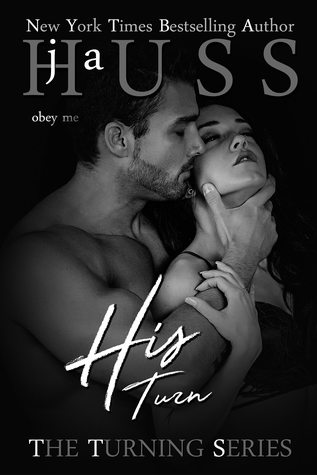 His Turn

by J.A. Huss
on July 4, 2017
Buy on Amazon, Buy on B&N, Buy on iTunes, Buy on Kobo
Goodreads


I look her body up and down as I circle her.
Mine?
I smile a devious, deviant, I'm gonna make you sorry you ever started playing this game with me smile.
And then I take her hand.
I lead her to the elevator.
We go up to my apartment.
I tie her wrists together with rope.
Raise her arms above her head.
And chain her to the ceiling.
It's my turn.
Wow…just wow…..I am going to start by saying this review is going to be short because I don't want to spoil anything about this twisty bendy read. His Turn was an amazing read!
I think I need to start by saying if you haven't read book 1 Taking Turns and book 2 Turning Back stop reading this review and go 1-click now.
Taking Turns which I read a few months ago blew me away with its emotions entangled in a lot of heat! It also vested me in each characters' life …characters who get a happy in each subsequent book.
That brings me to His Turn….Elias "Bric" Bricman.
The backstory for Elias is very much a part of the WOW that I started my review with. This man shrouded in secrecy and how he grew up is revealed in heart-pulling fashion. How Elias finally accepts where he came from and the way he moves forward was so well done.
We do get a glimpse of the characters from the prior books, they do play into the story just a bit. The amount they fit in certainly fit for Bric and his life though personally I wanted to see them more. What the reader does see especially at the very end brought a huge smile to my face.
In the end the mind f*cks ( I know I know I don't normally curse in my reviews but there are no other words to describe what happens here) will have you catching your breath. Not only do they surprise the reader but they say so much about the characters in the book.
The epilogue and the voice it's told in has me wondering if we might can another book in this series.
Thank you to Ms. Huss for the amazing ride!
From the opening of Taking Turns, I wanted to know more about Quinn, Smith and Bric. Three books and countless hours of reading enjoyment later, each man has a life so perfect for them!