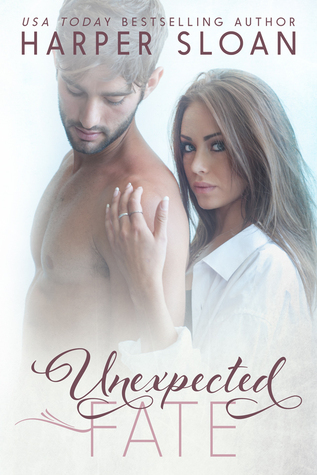 Unexpected Fate

by Harper Sloan
on February 17, 2015
Pages: 300
Buy on Amazon
Goodreads


Have you ever felt like you were living your life for a future that was predetermined? Like there was some bigger picture you just prayed you would someday see clearly? That picture has been crystal clear to me since I was old enough to recognize it for just what it was.

Or I should say recognize him for who he was.

I've loved Cohen Cage since I was a small child. He's been my everything for the last twenty-two years. I've loved him through every girlfriend he's ever brought home. Through his college years and then mine. I've loved him through two deployments. And ever since the day I told him how I felt, he's acted like I'm a stranger.

My name is Danielle Reid, and it's time for me to get my man.

Our future is an unexpected fate, and no matter what our parents, siblings, and friends say…it's going to be worth every second of the fight to make it happen.
Unexpected Fate is the story of Cohen Cage and Danielle "Danni" Reid.  Unexpected Fate, the Hope Town series, is a spin-off of her Corps Security scene. Ms. Sloan did an amazing job at making this book timeless.  It is a seamless read for the reader who has had the timeline the series moved up decades; as the young children and babies become adults.
Though this book is the story of children from Ms. Sloan's Corps Security series, this book is absolutely a stand alone, any information you need to know about Danni and Cohen's past is revealed in this book. Now if you have read and enjoyed the Corps Security series like I did, then many of the scenes will be even more poignant, pulling the reader back to memorable moments from the series.
Oh I don't want to forget the use of one image was masterfully woven into this story! Ms. Harper used it to help the characters move forward in not one but two cases while also using it show that Danni and Cohen's path is fated (nope not telling you what that image is – read the book!).
Yes, I loved this book.   Danielle's Dad, Axel, in protective Dad mode, was epic and made for some laugh out loud moments: "Protect Dani from everything with a penis." There are many more laugh out loud and smile from ear to ear moments in this book!
I also loved the nicknames in this book; Cohen calling Danni,  Danni-girl and Axel calling her little Princess made me smile each time I read it! Truly creating special bonds between characters.
I love seeing all the children growing up, I especially loved Liam Beckett; though Nate, the bad boy and Maddie Locke I am sure will be fun to read as someone tames each of them; something about Liam or Lee as Danni calls him has me hoping he is next in the series!
This book also brought new characters to love Chance, Cohen's roommate, a fellow Marine is a man I want to know more about and Megan the unit's widow and single mom who also needs a happy. Ms. Sloan I hope you read this!!! lol.
I truly enjoyed this story… it is an epic start to a new must click series for me!
Well, maybe the start of two series as the end of this book holds the prologue to a book about a band mentioned in this book, so I now also have Jaded Hearts (Loaded Replay #1)  on my to read list!
As for Unexpected Fate, this book truly spoke to my heart; Danni and Cohen truly are fated to be together and I thoroughly enjoyed their journey to happy!