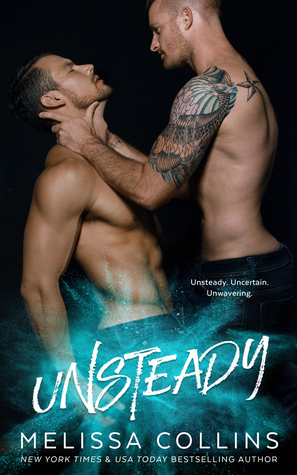 Unsteady

by Melissa Collins
on April 28, 2017
Pages: 323
Buy on Amazon
Goodreads


Micah Hudson and Jude MacMillian were both lonely teenagers. One the new kid and one the target of relentless bullying, they quickly became friends. But when friendship grew into more, the relationship was too much for either to handle. As their tenuous bond was tested, everything tumbled down, leaving them lonely once again.

A decade later, Micah is on the brink of losing his will to live. Beyond exhausted from lying to everyone, including himself, Micah thinks of the one person who knows his deepest secret. Desperate and alone, Micah makes the only decision he feels he has: he must leave. But his need for closure depends on one thing.

Can Jude make room in his Unsteady life for Micah once again?
I adored Micah Hudson and Jude MacMillian's story in Melissa Collins' Unsteady… this story was part friends to lovers and part second chance romance. How can it be both you ask? Well, this story is told in both men's pov's and in the past and present so the reader lives the beginning of their friendship and them reconnecting
This was so well done… I was sucked into both story lines and couldnt even decide which time frame I enjoyed more
As an FYI, though Micah makes an appearance in a prior book in this series this book can ABSOLUTELY be read as a standalone!
Bearing witness to Micah and Jude's friendship becoming young love and these men reconnecting kept me glued to my kindle and engaged in the story!
I loved the interplay with Jude's father, so many great scenes, scenes that show how Jude grew and developed, how he matured and in some instances how he was still stuck in the past .
For most of this book, you know it is coming that ughh moment is coming… yes, I dreaded it… but how it unfolded not only added to the story, it had my heart breaking for both men.
In the end, the happy Micah and Jude found warmed my heart.