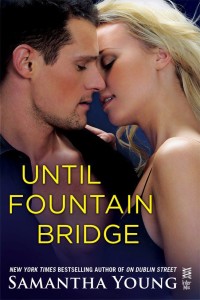 ---
5 STARS!!!
Synopsis
Ellie Carmichael had a crush on Adam Sutherland, her brother, Braden's, best friend, for years, and although Adam treated her with proprietary concern he made it clear he thought of her only as a little sister.
Over the years, as Ellie's crush develops into love, her romantic idealism makes it difficult for her to move on. To make matters worse, as she's gotten older, Adam's attitude has changed toward her. His affection for her is now joined by attraction, but his loyalty to Braden, and his fear of losing the only family he has, stops him from claiming Ellie the way she wishes he would.
But one night his attraction is put to the test, and as much as Adam would like things to remain the same everything changes between them in a simple brush of the lips.
Soon lust, love, jealousy and heartbreak combine to force change upon their relationship… and Adam discovers the hard way that life is too damn short to spend it on regret.
Denise's Review
This was such a wonderful read.  This short novella tells the story of Adam Sutherland and Ellie Caramichael, Braden's best friend and his sister from On Dublin Street.
On Dublin Street was one of my favorite reads of 2012 and Ms. Young reminded me in this novella why I adore her writing.
Ms. Young tells Adam and Elle's story without added drama and angst.  She masterfully tells their backstory and the journey these two life long friends took to find and admit the deep love they share for each other.
I don't want to tell you how Ms. Young accomplishes this because  it was so enjoyable to experience, I want the reader to witness this first hand.
You can feel the attraction these two share, you watch them develop a deeper connection to each other.  The close encounters in their past add to the closeness these two experience as the reader witnesses them struggle with their draw to each other.  When these two finally connect, you can feel the sparks, the depth of the love and their devotion to each other.
Adam's declaration of love, something seen in On Dublin Street, was retold here and was so heartwarming to see Adam and Ellie's sides during this encounter.  Adam becomes the man Ellie dreamt of and so much more.  Adam knows Ellie is his forever and once he opens his heart to her, he will melt yours.
I am so looking forward to read Down London Street the next release in the On Dublin Street series.
About the Author
New York Times and USA Today bestselling author, Samantha Young, is a 26 year old writer from Stirlingshire, Scotland. After graduating from the university of Edinburgh, Samantha returned to Stirlingshire where she happily spends her days writing about people she's keen for others to meet, and worlds she's dying for them to visit. Having written over ten young adult urban fantasy novels, Samantha took the big plunge into adult contemporary romance with her novel 'On Dublin Street'. 'On Dublin Street' is a #1 National Bestseller and has been re-published by NAL(Penguin US).