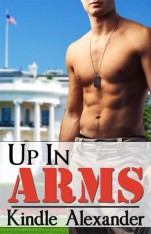 3 STARS!!!
Summary
When Reed Kensington–ruthless attorney, self-made millionaire and handsome playboy–returns from abroad and accepts a position with a prestigious law firm in his hometown, he believes his life is perfect. Reed never expected a chance meeting with an auburn-haired temptation to make him cross-examine his life or his future.
Trevor West, a military special ops team member, has a secret not even his best friends and fellow team members, Brody and Rylie, are privy too. He's gay and has a crush on one of them since their first days in boot camp.
Never willing to let his secret out, Trevor meets Rylie's older brother, a handsome and debonair playboy who unleashes all his secret desires. Will Trevor risk it all or will his duty to his country cost him his only hope at love?
Denise's Review
When Reed Kensington, self-made millionaire and handsome playboy, falls for his brother's military special ops team member Trevor West, the sparks fly and both will be made to face things they have never done before.
So I have to say that I really wanted to read this book and had such high hopes for it; two hot men, true love, a strong hot in a suit attorney and a well build military man… unfortunately the book did not deliver beyond an average read.
The blurb does not tell you but this couple is forced to face a tragic event.  I did like how part of how this was handled.  Reed's desire to go after what he wanted was enjoyable to read but many events around this event just did not sit as realistic to me.
The interactions with both men with Rylie, Reed's brother made for enjoyable character development.  
Reed is openly gay and his family supports this which was nice to read.  I also thought the subtle way anti-gay sentiments were addressed were realistic.
Some of the language by these two men was just too flowery. Also, the author used text messages but they were too long – I did not find it realistic that men would exchange paragraphs at a time. 
The last chapter takes you a bit out and then the Epilogue takes you 10 minutes from the last chapter.  The structure just did not sit well with me either.  The last chapter should have been part of it or the epilogue should have gone further out.
There was so much potential for this story and although I did enjoy it, it did not deliver an outstanding read.
About the Author
Best Selling Author Kindle Alexander is a innovative writer, and a genre-crosser who writes classic fantasy, romance, suspense, and erotica in both the male/male and male/female genres. It's always a surprise to see what's coming next! Happily married, with five children, and four dogs living in the suburbs of Dallas, where the only thing bigger than the over active imagination, may be the women's hair!
Website www.kindlealexander.com
Goodreads http://www.goodreads.com/author/show/6421828.Kindle_Alexander