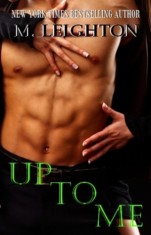 4.5 STARS!!!
Summary
Happily ever after doesn't come easy. But for love, it's always worth the fight.
Olivia finds bliss unlike any she's ever known in Cash's arms. He sets her skin on fire and melts her heart right inside her chest. Unfortunately, their happily ever after is short-lived when a shadow from Cash's past threatens to turn their world upside down.
Dangerous people from his father's world have discovered that Cash holds information that could put them away for a very long time. And they're willing to do anything—and hurt anybody—to get it back. Giving it up means Cash must choose between the life of his father and the life of Olivia.
Having nearly overcome her wariness of bad boys, Olivia's trust is shaken when this new threat arises. Now she finds that Cash is not only a danger to her heart, but his family has associations that are a danger to her life as well. She soon discovers that there are some situations in life where trust is a girl's only option. And this is one of them. If she's to live, she must trust Cash with her life. But to Olivia, that's much, much easier than letting go and trusting him with her heart.
Excerpt
Before I can turn around, Cash speaks. "Don't move," he says. He walks toward me, stopping at my feet and looking over my entire back side. He leans in and I think he's going to touch me, but he doesn't. He leans over the bar and grabs a bottle of Jack from underneath it.
I'm watching him from above, every nerve in my body alive and waiting for him to touch me. But still he doesn't. Instead, his eyes locked on mine, he unscrews the bottle of Jack and pours a shot.
"Turn around," he commands.
Tingling with excitement, I do as he asks, stopping myself from crossing my arms over my chest self-consciously.
"On your knees."
I sink to my knees on the bar in front of him. His dark eyes embody everything naughty and sexy and dirty and hot and exciting that I can think of, and I feel the warmth of them all the way to my core. I'm so ready for him, I ache from the neck down.
"Spread your legs."
Edging my knees apart, again I do as he asks. I watch his eyes as the skim over my breasts, down my stomach and stop right between my legs. I swear I can actually feel him there, feel his tongue, feel his fingers, feel him moving inside me. I gasp, thinking I can't take it one more second, but then his gaze flickers back up to mine.
 Here's a great song for this scene!
Denise's Review
My husband is a Jack Daniels drinker ……All I can say is I will never look at that amber liquid the same way again!!!  Ms. Leighton was kind enough to let us excerpt part of that scene – trust me you will want to read the entire book after reading a snippet of this scene!
As I sat down to read this book, I clearly remember where I was when I finished Down To You, as I was left starting at my Kindle wanting more!
Well, it was well worth the wait. I adored this book; like book 1 Ms. Leighton wrote a book with plot twists, excitement and yes sexual attraction that you can feel through the screen on your e-reader.  I will be keeping this review short as I want the reader to uncover this story first hand so please know the length of the review is not an indication of the feeling about this book because again I adored it.
Olivia and Cash warmed my heart.  Ms. Leighton shows this couple in tender moments, hot encounters and heartfelt exchanges all of which show the reader the real and strong connection they share.
In Up to Me, Cash and Olivia are now faced with the danger left behind by Cash's father former business dealings, the ones the landing him in prision. Two mystery men appear to help as the danger elevates and both will leave you wanting more of them!!!
Olivia's not so very nice cousin, Marissa, from book 1 is in this book and her transformation was a twist I did not expect and it was truly enjoyable to watch (especially when it caused waves between Cash and Olivia).
As the danger builds and Olivia's mother is made aware of yet another "bad boy" in her daughter's life, can Olivia trust Cash?  Can Olivia break free from her fear to give her heart to Cash?  You have to read to find out!
Ms. Leighton was kind enough to let us know that one of the two mystery men you meet in this book – Gavin will be the subject of book 4!  You have to read UP TO ME to find out who will be the subject of book 3!
Please do not read this book until you have read book 1 Down To You.  I am very much looking forward to both books.  I was provided a copy of this book from the author in exchange for an honest review.
About the Author
I was born and raised in the United States, and I've lived in several of the fabulous fifty. Though I currently live in the deep South, I spent much of my childhood up North and hope to return there one day. A few other things about me: I believe that sometimes you have to look really, REALLY hard to find the good in people, but it's there. I believe that I'm shrinking (I swear five years ago I was two inches taller). I believe my husband is quite possibly one of the most amazing men in the entire world (I can't be sure because I haven't met all of them). I believe coffee and chocolate, when combined, could be the basis for world peace. I believe that Jesus rocks and communism doesn't. I believe that white makes me look fat and black collects lint. I believe summer's too hot, winter's too cold and fall was made for football. I like dogs better than cats and the first movie in a trilogy is invariably the best. But most of all, I believe that love conquers all.
Twitter mleightonbooks
Website http://mleightonbooks.blogspot.com
Facebook http://www.facebook.com/m.leighton.books
Goodreads http://www.goodreads.com/author/show/1152263.M_Leighton