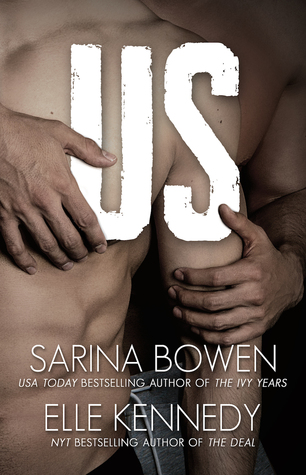 Us

by Sarina Bowen, Elle Kennedy
on March 8, 2016
Buy on Amazon
Goodreads


Can your favorite hockey players finish their first season together undefeated?

Five months in, NHL forward Ryan Wesley is having a record-breaking rookie season. He's living his dream of playing pro hockey and coming home every night to the man he loves–Jamie Canning, his longtime best friend turned boyfriend. There's just one problem: the most important relationship of his life is one he needs to keep hidden, or else face a media storm that will eclipse his success on the ice.

Jamie loves Wes. He really, truly does. But hiding sucks. It's not the life Jamie envisioned for himself, and the strain of keeping their secret is taking its toll. It doesn't help that his new job isn't going as smoothly as he'd hoped, but he knows he can power through it as long as he has Wes. At least apartment 10B is their retreat, where they can always be themselves.

Or can they? When Wes's nosiest teammate moves in upstairs, the threads of their carefully woven lie begin to unravel. With the outside world determined to take its best shot at them, can Wes and Jamie develop major-league relationship skills on the fly?

Warning: contains sexual situations, a vibrating chair, long-distance sexytimes, and proof that hockey players look hot in any shade of green.
First if you haven't read HIM, stop reading this review and go 1-click, then click US because this book is such a wonderful now what to that story. If you have never read a gay romance, HIM is one worth trying as the connection between these two men shines through in spades. It is the start of a heartwarming friends to lovers story!
In US, the reader sees Jamie Canning and Ryan Wesley working at their relationship during Ryan's rookie NHL season, so time wise it is a few month after the end of HIM.
We find them trying to hide their relationship so that the media focus will be on Ryan's career not his sex life or choice of partner. This doesn't make for much fun for either man. The authors did a wonderful job at making this feel real and powerful; it often hurt my heart without making me mad at either man.
I loved the Canning family in HIM and fell even more in love with them in this one, as Jamie's family plays a major role in this story as events plays out.
With poetic grace, the authors not only allowed the reader to fall more in love with the characters from the first book but also crafted new ones that will steal your heart and in the case of Blake Riley have you laughing out loud! I loved Blake throughout the story and I truly hope he gets a story of his own in the future.
US was so well done, as Jamie and Ryan deal with so much (nope not telling read the book) you will never question their love for each other even if they sometimes question it themselves due to circumstances.
I loved the real feel of this story, it allows the reader to experience such a wide range of emotions, including humor (something I think is a tough one to pull off).
Thank you Ms. Bowen and Ms. Kennedy for this heartfelt story! And please please write a story for Blake!
♥READ THE SERIES♥
Book 1 – Him
Book 2 – Us