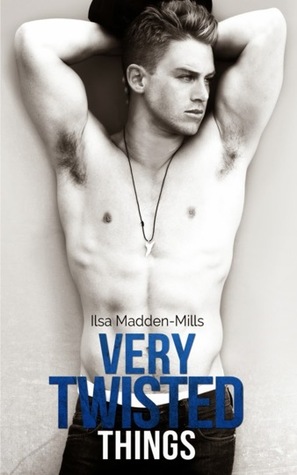 Very Twisted Things

by Ilsa Madden-Mills
on March 1, 2015
Pages: 367
Buy on Amazon
Goodreads


STANDALONE NEW ADULT ROMANCE!

A sassy violinist who lives next door.
An obsessed rock star who watches her through binoculars.
And one night when she bares it all.
Life will never be the same in Tinseltown.

Vital Rejects front guy Sebastian Tate never imagined his YouTube music video would go viral, sky-rocketing him to acting success in Hollywood.Okay, maybe he did. After all, he's a cocky dude who knows he's hot-as-hell, and it was only a matter of time before his stars aligned.

But life in Tinseltown is never what it seems.

After being cheated on by his ex-lover, his only rule to falling in love is simple: Keep Calm and Don't Do It. So, spying on his mysterious new neighbor with binoculars seems innocent enough, but quickly escalates into an erotic game between two very unlikely people.

Twenty-year-old Violet St. Lyons is a world-renowned violinist who's lost her mojo on stage. She hides away in a Hollywood mansion, trying to find her way through her twisted past in order to make her future.

He's the life of the party with girls chasing him down for his autograph. She's the introvert with a potty mouth who doesn't even know who he is.

When they meet, stars collide, sparks fly, and clothes come off. Yet, giving his heart to a girl isn't Sebastian's plan; falling for a guy who craves attention isn't Violet's.

Welcome to Briarcrest Academy—Hollywood style—where sometimes the best things in life are VERY TWISTED THINGS.

This book is a standalone even though it's part of a series. Everything you need to know is in this book. Genre: 18+ Hot New Adult Romance.
This book can easily be read as a standalone. Sebastian Tate is the younger brother from the hero of book 1 but this story takes place a few years later so everything you need to know is explained.
I want to start by saying this book opens with a scene that put my heart in my throat; it was masterfully crafted putting the reader deep into a traumatic event that shapes this book and layers masterfully into the story.
Sebastian is the Vital Rejects front guy, his YouTube music video went viral, sky-rocketing him to success. When the reader meet Sebastian, he is settled in Hollywood and trying to make a go of an acting career. The course of events painted by Ms. Madden-Mills felt like something that could happen these days; and I loved the reason why Sebastian is working to settle down; he truly is a wonderful friend.
When Sebastian and his binoculars lock eyes on his neighbor Violet St. Lyons, a world-renowned violinist, sparks fly as these two play a game of cat and mouse. Though the blurb may sound creepy, Sebastian's admiring V from afar truly works; she knows; she plays along and even amps up the stakes.
V and Sebastian develop a bond that is tangible to the reader. His understanding of her struggles (nope not telling you her back story because I think reading it is more powerful). The shared experiences these two share, I think adds to their connection. And I love the shared desire to help youth; it truly helped me love both.
V and Sebastian have obstacles in their way; Sebastian has sworn off love and Violet wants no part of the press. The way both of these things were explored and boundaries pushed truly worked for me. You understand that why for each character.
In the end, the happy these two find was crafted with some wonderful plot twists and the way the name of this book ties into the story was epic!
♥READ THE SERIES♥
Book 1 – Very Bad Things
Book 1.5 – Very Wicked Beginnings
Book 2 – Very Wicked Things
Book 3 – Very Twisted Things