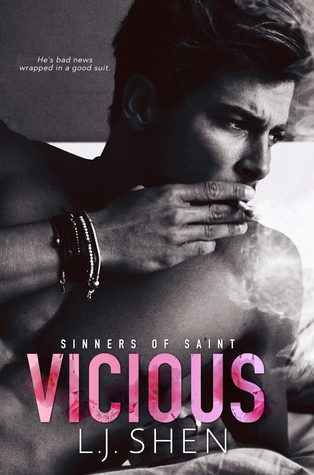 Vicious

by L.J. Shen
on January 1, 2017
Pages: 328
Buy on Amazon
Goodreads


Emilia

They say love and hate are the same feelings experienced under different circumstances, and it's true.
The man who comes to me in my dreams also haunts me in my nightmares.
He is a brilliant lawyer.
A skilled criminal.
A beautiful liar.
A bully and a savior, a monster and a lover.
Ten years ago, he made me run away from the small town where we lived. Now, he came for me in New York, and he isn't leaving until he takes me with him.

Vicious

She is a starving artist.
Pretty and evasive like cherry blossom.
Ten years ago, she barged into my life unannounced and turned everything upside down.
She paid the price.
Emilia LeBlanc is completely off-limits, my best friend's ex-girlfriend. The woman who knows my darkest secret, and the daughter of the cheap Help we hired to take care of our estate.
That should deter me from chasing her, but it doesn't.
So she hates me. Big fucking deal.
She better get used to me.
So I have loved L.J. Shen since Sparrow….but after reading Vicious, it is solidified for me – L.J. Shen is the QUEEN of Asshole Men that readers will FALL IN LOVE WITH!!!! I say this in the nicest possible way ever because there is just something about these men – their hate, and anger, and battle of wills that make the fight for finding love so worthwhile and so fun to be a part of.
So what's this book about?
Well, ten years ago Emilia LeBlanc and her family moved in to Baron (aka Vicious) Spencer Jr.'s home to live in their servants quarters and to take care of the daily maintenance of their home. Right away, Vicious and Emilia go to school together and don't get along because of a deep hatred that Vicious apparently feels for Emilia and she doesn't understand why. It saddened me because it bordered on the lines of bullying and utter meanness and I truly felt SO bad for her because he made her life completely miserable 🙁
Ten years later, these two cross each other's paths again in NYC and Emilia (Millie) is working two jobs to make ends meet. And Vicious gives her an offer that she can't refuse; help him with something he needs and in return he will help her so that she will never have to worry financially ever again. I want to pause here and say that I loved Emilia's character – her goodness, her heart, her care and love for her sick sister. I felt in my heart that Emilia was put into Vicious life to give him something he never had in his life before – compassion, love and understanding.
Readers will be taken on a journey, a masterfully done story of enemies to lovers with a perfect blend of sexual tension, drama that completely blew me away! So much happens in this story that I don't want to reveal  but it is delicious in its uniqueness, gritty and completely addicting. I absolutely LOVED the dual POV and being in each character's head and understanding their thought process and seeing their true feelings. Everything combined was just complete perfection. The push/pull, the love/hate, the sorrow/forgiveness – readers will live in this story, be a part of this story – it will utterly consume your every thought and your whole being.
I know I am not saying much about the story or how everything transpires but in the end everyone got what they rightfully deserved…I know that this is SO VEGUE but you have to read it!!! Reading Vicious will truly be an experience you will never forget!
I am SO excited that this is a series and I can't wait to read the stories of the rest of the Four HotHoles at All Saints High!!!!!! More assholes to love hehe 🙂



"You're pissing me off," she said quietly, her eyes still searching my face.
"And that's turning me on," I retorted, my voice flat. "So you might wanna tone down the hate glares if you don't wanna find yourself being fucked on this desk with the blinds still open."
I was still staring at my screen, working on the merger deal I was eager to get signed before Christmas, but I could see from my peripheral that she had paled. I liked how—once again—I'd gotten under her skin. Quickly.
"You're disgusting," she muttered, still staring at me—but not in a way that suggested she was appalled.
I cracked my neck, opening my browser and checking the stocks on the screen, skimming through the greens and the reds. "That may well be, but I'm balls deep in your fucking head, Help, and there's nothing you can do about it."
Her eyes glittered with rage, and fuck, I was so hard, and fuck, she was so beautiful. This was so on. I was going to fuck Dean's ex-girlfriend, use her for my personal needs, and toss her away when I was done.
And after choosing the wrong guy, there was no doubt in my mind, she deserved it too.
"You just gave Floyd a lecture about the inter-office fraternization policy. No mixing business and pleasure." She leaned forward. Her elbow touched my finger accidentally, and she jerked it away.
I met her halfway, erasing the space between us across the desk. "Correction—guys like Floyd won't give you pleasure. Men like me would. Besides, the man likes Arrow," I drawled, as if this alone was a reason to fire him.
To me, it was.
"You know what your problem is, Vicious? You still haven't decided if you hate me or like me. That's why you act like this every time I'm around other men." There wasn't a trace of embarrassment in her voice. She owned up to this.
What she didn't know was that I knew exactly how I felt about her.
I hated her, but was attracted to her. It was really that simple.
"You know what I feel right now, Ms. LeBlanc? I feel like you need to pack a fucking bag and start making the necessary arrangements. You're coming with me to California, whether you like it or not."