by Tymber Dalton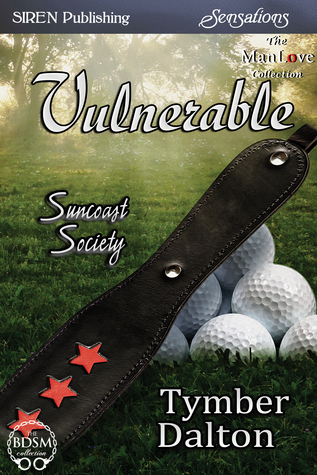 [Suncoast Society #29, MM, BDSM]
Leo didn't want a divorce, yet he can no longer ignore the fact that he's gay—and kinky. He knows it's going to break Eva's heart, but he cannot be the husband she needs. He doesn't want their daughter raised by two miserable parents.
Jesse is gun-shy after his former Master abused him and his trust. He admires Leo's dedication to Eva and his patience despite her repeated attempts to delay and derail the divorce. And he absolutely adores Laurel, Leo's young daughter.
But when tragedy strikes, Jesse is forced to forge an uncomfortable alliance with Eva for Laurel's sake…and her safety. That's when Jesse learns the dark secrets Leo has kept on Eva's behalf for so long, and why. With the strong welder now clinging to life, Jesse must step up and man up to protect the cherished family of the Master he loves before their vulnerability rips everything they've struggled to build apart at the seams.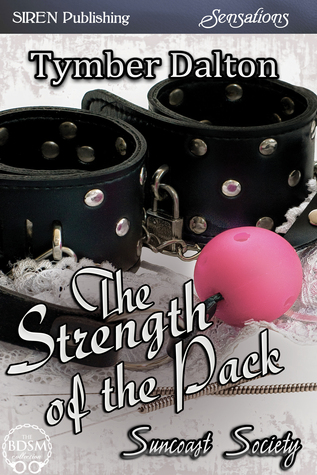 [Suncoast Society #30, MF, BDSM, NOT a paranormal – the "pack" is their family structure]
Eva's world collapsed when Leo announced he was divorcing her. She believed an imperfect marriage was better than none since Leo protected her and their daughter. Then she quickly came to love Jesse, Leo's new husband, and realizes their "pack" is better, for all of them.
Nate Crawford practices acupuncture and enjoys helping people in his clinic and at Venture, the BDSM club. Family is all to him, because he raised his little sister as a single parent. He thought Leo, Jesse, and Eva were a triad, until matchmaking Tilly gets involved. Their only barrier to long-term love is whatever dark secret Eva keeps deeply buried.
When a confrontation finally forces the truth out, Nate and Eva are able to move forward, with Leo and Jesse's blessings. But the worst day of Nate's life pales in comparison when an unexpected crisis forces him to rely on the strength of their pack to carry him through a nightmare he can't escape.
NOTE: This book is a direct sequel to Vulnerable (Suncoast Society 29) and that book should be read first to avoid spoilers.


Ok  I am going to try to explain my reasoning for reviewing both these books today… though the Suncoast Society series is a series of standalones about characters who frequent the same BDSM club and can usually easily be read just when one blurb catches a reader's eye, in this case the two stories are about the same "pack."  No, not a pack of wolves as I don't read paranormal, these books are about a group of people finding a very perfect and truly unique happy.
Vulnerable and The Strength of the Pack were each 4 star reads for me but reading them together back to back combined for a 4.5 star reading experience. Weird I know but when you read them, you will understand.  In this case, the stories are so interwoven at the end, laying out a happy that is crafted around a set of circumstances that take place in both books that is an amp'ed up reading experience and rating.
To read these books, you must have an open mind and a desire or more accurately a willingness to see that happy and content and even love meaning different things to different people.
Vulnerable is the story of Leo and Jesse; Leo as it says in the blurb has asked his wife Eva for a divorce as he can no longer live a lie.. you see Leo know knows he is a gay.  The author makes it so clear through Leo's actions and words that he never intended to hurt Eva's or to break her heart.  I was shocked to find myself rooting for Leo to find a happy.
The happy Leo finds with Jessie is one Leo never imagined.. why you ask.. well Leo knew very little about BDSM until he was introduced to it and Jessie by a mutual friend.
Jessie is a sub, and though I often enjoy the journey Ms. Dalton takes the reader on, when a newbie is introduced to the lifestyle this one was even more fun as we get to see a Dom find his way. Witnessing Leo explore and play with Jessie and finally feel so comfortable in his own skin made for such an engaging read.
Oh back to Leo and Eva, I should make sure to add that they have a child, a beautiful and spunky little girl named Laurel.  Laurel was masterfully used throughout both books to move the story forward and to make so much of the story work.  Leo truly wants what is best for his daughter (this is not truly understood until Eva's demons are exposed in book 2). Laurel has some great lines and this little girl stole my heart from almost the beginning of Vulnerable.
I adored Jessie, it is so clear he loves Leo and that he wants what is best for him. Jessie's desire to allow Leo to be father first truly touched my heart.
In an interesting twist, the closer Leo and Jessie get, the more Eva comes into play… and when tragedy strikes, these two form an unlikely pair as they fight for him!
This brings me to The Strength of the Pack – this book re-starts the story just about where Vulnerable ends and what we get in this one is the complete happy… a happy and a forever love for Eva.
As Leo and Jessie find the perfect rhythm, Eva is still stuck in the past, not her past with Leo but a past I will not tell you about as you need to experience it first hand.
In
Vulernable
a snoopy Eva finds out about Leo and Jessie's play time; that weaves into this one as Tilly a Domme from the club (and the star of Cardinal's Rule a menage a highly recommend 
http://amzn.to/1Q8iR4t
) sets Eva up with Nate Crawford.
Nate was not only the perfect man for Eva; patient, kind and compassionate but also someone the reader will easily fall in love with.  This man raised his stepsister from an early age (I will let you read why), he built a life for himself and then finds exactly what he is missing in Eva.
Just like Jessie, Nate embraces that his partner Eva is a parent first.   The openness all these characters have for love and its endless capacity to give truly warmed by heart.  Laurel is a very lucky girl as she truly has a village to raise her!
As Eva's dark past is revealed, I wanted to hug Nate, how this portion of the book played out was truly brilliant!
When life throws Eva and Nate a twist, one that I loved how it played out, but sadly one that comes with a heart pounding end. I truly love how this all played out, as you never truly know love until it is tested in the worst life has to offer you. These two books prove that in spades!