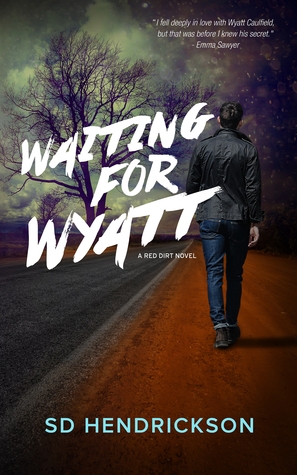 Waiting for Wyatt

by S.D. Hendrickson
on January 12, 2016
Buy on Amazon
Goodreads


"The dogs that deserved a chance, the guy who needed a second, and the girl determined to save him."

My name is Emma Sawyer.

I met Charlie and Wyatt on the same sultry, summer day. It was unexpected, leaving a feeling in the pit of my stomach like the time I drove too fast over Beckett Hill. The moment happened out of nowhere, all fast and quick and a little strange. Or maybe that was just Wyatt's personality.

It was Charlie that brought us together. Little Charlie with those ridiculous ears. I found the dog, waiting in a pool of his own blood. Waiting for someone. Waiting for me.

Now Wyatt, he wasn't waiting for anyone. At least that's what he said, except I saw something different in the broken guy all alone out in the woods. I knew he needed me before he knew it himself.

Wyatt with his hidden dimples. Wyatt with his warnings to stay away. He was a hard lump of coal, ready to burn everything around him. The more he burned, the more it pulled me into the pain I saw etched on his troubled face.

I wanted to help Wyatt. I wanted to save him like he had saved all the Charlies in the world. He told me not to fall for him, but I did anyway. I fell hard and fast and deeply in love with Wyatt Caulfield.

But that was before I knew his secret.

Author Note: Waiting for Wyatt is the love story of Wyatt Caulfield and Emma Sawyer, which also features rescue animals. It's a 112,000 word standalone, Contemporary Romance / New Adult Novel.
I absolutely LOVED The Mason List and knew that when Waiting for Wyatt came out that I would want to get my hands on it right away. This book elicited such emotions and heartache while still being amazingly beautiful that S.D. Hendrickson will always have a place on my author to read list.
Though this book had amazing characters in both Wyatt and Emma, their story was also centered around the abused dogs, each with their own story that completely broke my heart. You see, I am a huge dog lover and I couldn't imagine anyone ever abandoning their beloved pet…so this for me was another layer of emotion that pulled at my heartstrings while making it a story that I will never forget.
Emma Sawyer has a heart of gold. A girl who wants to rescue dogs, help her elderly neighbor while working at a nursing home.
She meets poor Wyatt one day when she is dropping off an abused dog to be taken care of at what she thinks is a shelter of sorts. After immediately meeting Wyatt, I want to know more about this dark and brooding guy who takes care of these dogs and acts as if he is not good enough…not deserving of anything.
Wyatt broke my heart…he had so much self loathing and after I learned about his past all I could think was that everyone is deserving of forgiveness…everyone…most especially when deep down inside they are good people who just made some mistakes.
What I LOVED about this story was Emma. Her relentless way  of letting Wyatt know she cares even while he was trying to push her away. She never gave up on him. Similar to how he never gave up on showing the dogs how he cared about them. Ultimately Wyatt was always a good person, he just needed to believe in himself again and I wholeheartedly believe that Emma was placed in his life for that reason. So that he could feel love again. Emma saw beneath the pain and sorrow and loved the boy – mistakes and all. For me, they were the perfect match.
I know I am being completely vague about this story and I really didn't tell you much..and all I can really say is how much I loved every minute of it. Yes, this broken boy broke my heart but Emma built it back up again. This is one I will never forget.
This was a beautiful book that will pull at your heart strings and will touch a piece of your soul <3