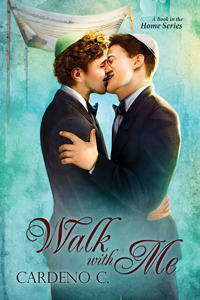 A Book in the Home Series
When Eli Block steps into his parents' living room and sees his childhood crush sitting on the couch, he starts a shameless campaign to seduce the young rabbi. Unfortunately, Seth Cohen barely remembers Eli and he resolutely shuts down all his advances. As a tenuous and then binding friendship forms between the two men, Eli must find a way to move past his unrequited love while still keeping his best friend in his life. Not an easy feat when the same person occupies both roles.
Professional, proper Seth is shocked by Eli's brashness, overt sexuality, and easy defiance of societal norms. But he's also drawn to the happy, funny, light-filled man. As their friendship deepens over the years, Seth watches Eli mature into a man he admires and respects. But when Seth finds himself longing for what Eli had so easily offered, he has to decide whether he's willing to veer from his safe life-plan to build a future with Eli.
The books in the Series are stand alone and can be read in any order.
First let me be clear this series a collection of stand alone stories that can be read in any order or as just one book. I read Walk with Me stand alone. This was my first book from CC and I was impressed with the author's writing.
Walk with Me tells the story of Eli Block and Seth Cohen. Eli is the son of a Rabbi and when Seth arrives to be work for Eli's father Rabbi Avi Block, Eli comes face to face with his childhood crush.
I want to say I love Eli and Seth; both are well developed characters. When the book opens Eli is only 18 while Seth is 27; this book spans time as Eli grows-up and Seth slowly comes to terms with his undeniable attraction to Eli.
I adored Seth's battle with his feelings; it was so well written I could truly feel for him as he struggles with the age difference, being drawn to a man, and being drawn to his boss's son.
Oh speaking of son; I love both sets of parents in this book. Eli's parents are part of a number of scenes that made me smile from ear to ear over the wonderful character interactions. P.S Yes I can so relate to having a Jewish mom and their guilt.
Seth and Eli develop a wonderfully supportive friendship; the reader can see and feel the deep connection.  And once these two finally open up about their feelings; or more appropriately once Seth finally admits he shares Eli's feelings this book truly grabbed me. The scenes that follow Seth's confession are hot; emotional and truly have the reader knowing these two belong together. And I so loved the Seth who appeared in the bedroom; Seth finally open to up and his care for Eli warmed me heart.
I really enjoyed how the cute theme used to tie each chapter together brought the book in a full circle in the end.
I enjoyed some of the secondary characters in this book and I would be interested in reading some of their stories (some are told in the prior books in the series).

Cardeno C. – CC to friends – is a hopeless romantic who wants to add a lot of happiness and a few "awwws" into a reader's day. Writing is a nice break from real life as a corporate type and volunteer work with gay rights organizations. Cardeno's stories range from sweet to intense, contemporary to paranormal, long to short, but they always include strong relationships and walks into the happily-ever-after sunset. Cardeno feels that characters write their own stories and just hopes to find enough time to get those stories on the page.
Cardeno's Home, Family, and Mates series have received awards from Love Romances and More Golden Roses, Rainbow Awards, the Goodreads M/Romance Group, and various reviewers. But even more special to CC are heartfelt reactions from readers, like, "You bring joy and love and make it part of the every day."